Do you know what Enhanced Results is?
Enhanced Results is an adware application that generally arrives bundled with other freeware. Some of the applications that distribute Enhanced Results may be absolutely legal (like FoxLingo, for example), and you can actually toggle the plug-in options in a way that you do not get displayed Enhanced Results ads. However, just in case it might be related to potentially unwanted programs, you should remove Enhanced Results from your computer along with the program it has arrived with. If you are not sure which program is responsible for bringing Enhanced Results onto your PC, run a full system scan with SpyHunter free scanner.
Technically, there is nothing extremely malicious or dangerous about Enhanced Results. This adware product simply displays additional box next to your Google search results. The box generally contains a few commercial links. Enhanced Results is more of a tool that displays commercial advertisements by other adware applications, like Ads not by this site virus and so on. Also, if you click the information tab provided in the bottom right corner of the box, you will see the following: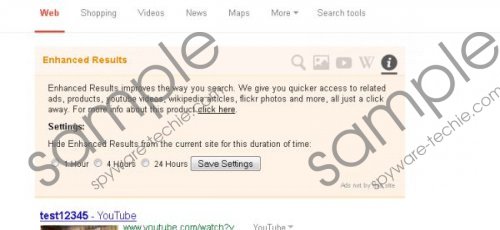 Enhanced Results screenshot
Scroll down for full removal instructions
Enhanced Results improves the way you search. We give you quicker access to related ads, products, YouTube videos, Wikipedia articles, Flickr photos and more, all just a click away. For more info about this product click here.
If you do "click here", you will land on another commercial website at advertising-support.com. Thus, it could be said that unless Enhanced Results is exploited by a malicious third party, it cannot cause any great harm to your system or your computer. Naturally, we should take into consideration the possibility of malevolent exploitation, when malicious third parties embed their own content into the ads and then makes use of Enhanced Results to distribute it to computer users worldwide, but the possibility of malware infection falls largely on the user himself/herself, as most of the links are obviously clicked at your own risk.
Nevertheless, if you want to disable Enhanced Results and it has been installed together with FoxLingo plug-in, you can do it via Firefox settings. If the adware application has arrived with some other application, then you should seriously check for other unwanted applications via Control Panel, and remove all of them at once. Do not hesitate to scan your computer with a reliable antimalware tool if necessary.
Check out the instructions on how to disable Enhanced Results on FoxLingo below, and if you have any further questions regarding Enhanced Results or its removal, you can always leave me a comment.
How to disable Enhanced Results
Open Firefox browser and press Ctrl+Shift+A.
Add-ons manager tab will open. Click Extensions tab.
Press Options under FoxLingo and a new menu will pop up.
Under Main, remove the tick from Enable search enhancing feature (ad supported) option.
Click OK.
In non-techie terms:
Enhanced Results is a potentially unwanted piece of software that works as an adware helper. It may be exploited by malevolent third parties for malware distribution, so it would be for the best to remove Enhanced Results from your browser.
Aliases: Enhanced Results virus.