Do you know what Enhance Pro is?
If you believe that you can save money using Enhance Pro, you might be disappointed by this adware (advertising-supported software). Although it does display advertisements that might show better prices for the products you are viewing at the time, it is unlikely that you would save a lot of money using the discounts shown to you. Also, it is most likely that this adware is promoting offers of specific vendors, and so it unlikely that it can provide you with the best deals online. Also, we cannot guarantee that it is safe for you to interact with the deals and discounts offered by this suspicious program. The mysteriousness of the suspicious app is what pushes us to recommend its removal. If you want to learn how to delete Enhance Pro from your Google Chrome browser (at the moment, it is the only one compatible with this adware), you can find the guide below. Of course, you should read the report first.
The official website promoting Enhance Pro is enhance-pro.apps-repo.net/us/install. If you click the "Add to Chrome" button represented via it, you are introduced to an installer that is hosted on the Chrome web store at chrome.google.com/webstore/detail/enhance-pro/nodbpfnfhjfkgnkddkjmnnljafobgaed. The bad news is that the extension could be spread in other ways. For example, it is possible that it will be introduced to you via misleading pop-up advertisements. You could find it bundled with unreliable programs as well. Also, according to research, Enhance Pro has some ties to shopmania.ro, and so it is possible that the extension will be promoted via it as well. Our research team has recently reviewed an ad-supported program called "Pro Flip," and it is identical to the app we are discussing in this report. It appears that the developer of this adware is experienced, and the distribution could be handled in a professional manner. Other ad-supported programs similar to these extensions include Price Fab, ShopzyApp, and Price Wagon.
If Enhance Pro was installed with your permission, you must expect to see pop-up advertisements because the main feature of this adware is to introduce you to price comparisons and provide you with better deals. As mentioned previously, if this app is serving specific vendors, it is unlikely that it will be able to provide you with best prices. You have to be extremely careful when interacting with the advertisements that are shown to you because they could automatically redirect you to third-party sites. Also, if you are using any of the offers represented by the ad-supported program, you should do a quick search to see if you are actually being offered the best deal. In general, we do not recommend interacting with any pop-ups associated with this adware. You have to be just as cautious about the search results with the "Sponsored by Enhance Pro" tag because they might be unreliable or misleading as well.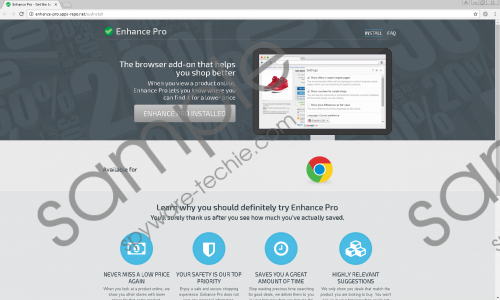 Enhance Pro screenshot
Scroll down for full removal instructions
Have you made up your mind about Enhance Pro? If you have not, you can start a discussion in the comments section. If you agree with us that it is best to remove this adware, you can use the guide below. It should not be hard for you to get rid of the add-on that is responsible for showing the suspicious ads and offers, but we also recommend resetting your Google Chrome browser afterward. If you do not want to reset your browser to ensure that no traces of adware are left behind, you should at least erase the cookies linked to it, which you can do via the menu that opens by tapping Ctrl+Shift+Delete keys. You can also install anti-malware software, and this is the best option if other unreliable or malicious threats have invaded your PC.
Remove Enhance Pro from Google Chrome
Launch the browser and tap keys Alt+F.
Select More tools and then Extensions.
Click the recycle bin next to Enhance Pro.
Select Remove and then restart the browser.
Tap Alt+F and select Settings.
Click Show advanced settings (at the bottom).
Click Reset settings (at the bottom).
Click Reset and then restart the browser.
In non-techie terms:
Enhance Pro is an advertising-supported program that can display pop-ups whenever you visit online shopping sites. It can also add advertisements to your regular search results. Unfortunately, it is unlikely that this adware would showcase authentic and truly beneficial shopping deals or useful offers, and so interacting with it is not recommended. In fact, the only thing that we can recommend is removing Enhance Pro. The guide above shows how to erase this add-on and reset the Google Chrome browser. If you discover that you need to delete a bunch of undesirable and unreliable programs, you might be interested in having all of them eliminated simultaneously. If this is what you want, we advise employing a trustworthy anti-malware tool.