Do you know what Egystart.com is?
If your browser settings have been changed without your knowledge, your computer might be infected with Egystart.com, which is an Arabian browser hijacker. If you have this hijacker on-board, it can mean that you have installed Fannan Codec Lite recently. This is an installer that is supposed to install a legitimate K-Lite Code Pack; however, it also contains this hijacker. Egystart.com might expose you to potentially harmful third-party websites. You need to remove Egystart.com, if you want to avoid the unpleasant consequences. But that may not be sufficient if you want to have a perfectly secure computer.
Egystart.com is most commonly distributed in the Fannan Codec Lite installer, but it is also possible that it is spread in freeware bundles. In the latter version it may come with other malware infections, including adware programs and browser hijackers. Such packages are usually promoted on questionable freeware hosting websites. It is important to know that if you install such a bundle, removing Egystart.com will not be enough to handle the security crisis. Since there might be other threats on-board, it is necessary to scan your computer. You can use a free but reliable online malware scanner to do that. If that finds any infections on your PC, it may be the right time to install a powerful antimalware program to protect your system.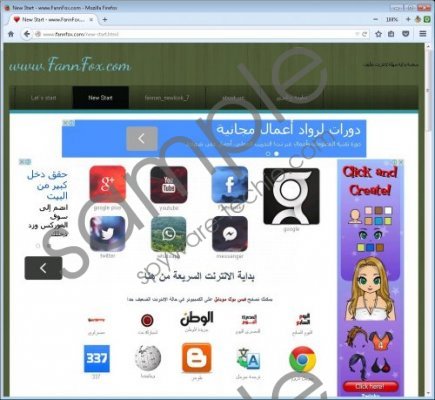 Egystart.com screenshot
Scroll down for full removal instructions
This browser hijacker works a bit differently from others; it hijacks your browsers in different ways. As a matter of fact, it does not even affect Google Chrome at all. It changes the new tab page setting in Mozilla Firefox and the home page setting in Internet Explorer. Egystart.com does not simply modify the home page in Explorer though, but, instead, it changes a Windows registry value. Obviously, these changes make it a bit harder to remove this infection from your system, but our researchers have found a solution, which we will share at the end of this article.
Even if your computer is infected with Egystart.com, you will not find it in the address bar. You can try to type this address in your browser to see what happens; it will redirect right away to another site, fannfox.com. That website has its own risks, which need to be mentioned. There are several third-party advertisements on the page that might be unsafe to click on. You can never know when a third-party ad is corrupted or not. That is how most users get infections onto their computers or get scammed over the net. You need to refrain from clicking on these ads as well as the quick link icons, which are offered on that site. The only way you can make these potential threats go away is to delete Egystart.com from your system immediately.
So, let us see how you can take care of this infection to protect your computer. First, you must remove the installer in which Egystart.com entered your system. You can easily do that via Control Panel. The more difficult part is getting rid of the browser hijacker itself. You must solve the issue differently with regard to the browsers. Please follow our instructions below the article, and you should be done in a few minutes. But even if you free your computer of this infection, it is still possible that there are other malware programs hiding on-board. That is why we recommend using a reliable antimalware application in order to automatically eliminate all the present threats and safeguard your PC from further attacks.
How to remove Fannan Codec Lite from Windows
Windows 8, Windows 8.1, and Windows 10
Tap Win+I and choose Control Panel.
Access Uninstall a program.
Click on the unwanted application and click Uninstall.
Windows Vista and Windows 7
Open the Start menu and select Control Panel.
Access Uninstall a program.
Select the application and press Uninstall.
Windows XP
Click on the Start button and go to Control Panel.
Open Add or Remove Programs.
Select the application and press Remove.
How to remove Egystart.com from browsers
Internet Explorer
Press Win+R and type in regedit. Press OK.
Locate HKEY_CURRENT_USER\Software\Microsoft\Internet Explorer\Main.
Find Start Page on the right and double-click it.
Type a new URL as the new home page in the Value Data box.
Press OK.
Firefox
In your browser's address bar, type in about:config and hit Enter.
Click on the "I'll be careful, I promise" button if there is a warning page.
Type in browser.newtab.url in the search box.
Double-click the preference name.
Rewrite the new tab URL in the pop-up window.
Press OK.
In non-techie terms:
Egystart.com is an Arabian browser hijacker that seems to affect your Internet Explorer and Mozilla Firefox browsers. It seems to come with a K-Lite Codec Pack bundled in an installer called Fannan Codec Lite. This browser hijacker might expose you to unreliable third-party content through banner ads and quick links. If you want to keep your system safe, you should remove both Egystart.com and Fannan Codec Lite from your computer. We recommend the use of a reputable automated malware remover, such as SpyHunter.