Do you know what eDeals is?
eDeals is a suspicious, potentially unreliable browser extension which travels packaged with other highly suspicious computer applications. In most cases this application is identified as an advertisement-supported program, placing it under the category of adware. If you fail to delete eDeals, it will collect information about you and it will promote sponsored links. These may be represented using alluring banner, in-line and pop-up advertisements. You should be careful with all online offers in general; however, clicking on them when adware is running is exceptionally risky. If you want to learn more about the extension and its removal, you should review what we have discovered.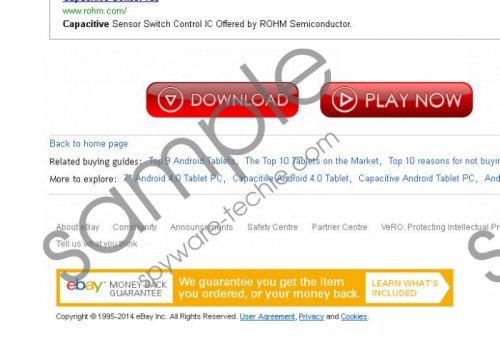 eDeals screenshot
Scroll down for full removal instructions
It is not surprising that eDeals is distributed using software packaging because no official installer is promoted. It is highly aggravating if the application was installed against your wishes because you may have no way to check the related Privacy Policy. We cannot stress enough how important this document is because it may reveal whether you should or should not delete specific software from the PC. Overall, the fact that the program is represented by third parties is a red flag already. Malware experts state that computer users should remove all suspicious programs, which means that you should delete eDeals and other associated software if you are not sure how it runs. Unfortunately, all that most users know is that the program is listed as eDealsPop version 1.0 and that it is represented by the running process eDealsPop.exe*32. Terminate this process and delete adware to eliminate the truly unreliable and risky offers appearing whenever you open the browser.
What Windows security measures have you employed? If reliable security software does not guard your operating system, it is possible that much more clandestine and mischievous programs are running alongside. Utilize a legitimate and trustworthy tool, like SpyHunter, to inspect the operating system, identify all threats, and remove them reliably. If no other infections are present, which is unlikely, you can use the manual removal instructions below.
Remove eDeals from the PC
Delete from Windows 8:
Access the Metro UI screen (tap Windows key), right-click and select All apps.
In the Apps menu open the Control Panel and then click Uninstall a program.
Right-click the program you want to remove from the PC and choose Uninstall.
Delete from Windows Vista and Windows 7:
Navigate to the left of the Task Bar and click the Windows/Start button.
In the appeared menu click Control Panel and then select Uninstall a program.
Right-click the program you want to remove from the system and select Uninstall.
Delete from Windows XP:
Move to the Task Bar at the bottom of the screen, click Start and select Control Panel.
Double-click Add or Remove Programs and then select Change or Remove Programs.
Click the eDeals entry in the list and choose Remove.
In non-techie terms:
Install automatic malware removal software to delete eDeals or other clandestine infections running on the operating system, and to set up shields against other threats. The suspicious advertisement-supported program does not deserve to run on your browsers because it does not serve beneficially. Instead of assisting you, it will assist third-party affiliates, who may be unreliable and who may promote completely unreliable offers, installers, savings, surveys, prize giveaways, etc.