Do you know what EDealMan is?
EDealMan is an adware application that works as a browser extension. It is compatible only with the Chrome browser, so it will not affect Firefox or Internet Explorer, but even so it can still get installed on your computer. Whichever it might be, it is important that you remove EDealMan from the system the moment you spot this extension. It is not safe to keep it because the application could be exploited by cyber criminals for their own malicious gains. Delete the extension and then check for other potential threats by scanning your computer with the SpyHunter free scanner.
You probably do not even know how EDealMan entered your computer. It is natural because the extension is often distributed in software packages, so users are too focused on some other app to notice that this adware application manages to slither into their system, too.
Not to mention, that the application is also promoted via its official website at edealman.club. The website suggests that with this application you can "get the latest deals and offers straight to your browser." It also goes to say that EDealMan "is a light-weight browser extension that simply shows you better deals before you shop online, and save you money!" It sure sounds like an answer to most of the problems users encounter when they shop online, but you should think twice before you trust this application.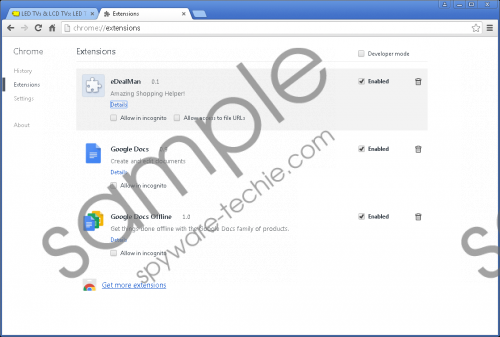 EDealMan screenshot
Scroll down for full removal instructions
Aside from having an official website, EDealMan can also be on the Chrome Web Store, but that does not mean that it would be a good idea to trust this application. Since the program displays third-party commercial advertisements, it is obvious that it is not responsible for ensuring the security of such content. As a result, EDealMan is extremely vulnerable to malevolent exploitations, and you can never know where you could land if you click any of the advertisements.
It is even more disturbing to see that most of the ads displayed by EDealMan are more or less related to your latest web searches. This happens because the application tracks your online activity to find out your likes and preferences. You see, the program increases the chances of your clicking its ads if the ads are embedded with a content related to whatever you have been looking for on the web.
When EDealMan has enough of information collected, the next time you open a popular online shopping mall, you will be assaulted by commercial advertisements, offering you to purchase something at a lower price. It would not be much of problem if you could trust these ads, but, unfortunately, that is not the case.
Not to mention that you probably have an entire list of other programs to worry about because EDealMan must have entered your PC in a software package. Thus, you need to locate all the unwanted applications and get rid of them at once.
Open your browser's settings and delete EDealMan from the list of extensions at once. Finally, invest in a powerful antispyware tool that will help you deal with other unwanted apps. If you are not a computer security expert, it would be for the best to rely on professionals to safeguard your PC from similar threats.
How to Delete EDealMan
Open the Chrome browser.
Press Alt+F and click More tools.
Go to Extensions and remove EDealMan.
In non-techie terms:
EDealMan is a browser extension that works on Chrome. This extension is supposed to help you purchase your favorite goods at a lower price, but it is also considered an adware program so it is not safe to keep it. Remove EDealMan right now and then acquire a licensed antispyware application to safeguard your computer from other adware apps. Should you have any further questions, feel free to leave us a comment.