Do you know what EasyCalendar is?
If you wish to customize your busy schedule with a help of Internet-based application, make sure not to use a program called EasyCalendar. Avoid this program even though you might come across claims stating that this tool provides numerous ways to customize your online calendar in various easy ways. While these statements might appear tempting, you should know that malware experts at Spyware-Techie.com have classified this application as a potentially unwanted program because it exhibits numerous suspicious traits. In fact, we believe that there are virtually no valuable features to make you keep this program active on your PC. Read the rest of this report and find out how exactly this potentially unwanted program functions and how you can delete EasyCalendar in just a few easy steps.
Firstly, it is important to highlight the fact that at the moment EasyCalendar is compatible only with the Google Chrome web browser. It is crucial to know that developers of this controversial program might adapt this calendar application to other well-known web browsers. Once this application is up and fully running, it might seem like an excellent tool, as it provides you with an ability to schedule various task and possibly get notifications about that. Obviously the functionality of this questionable calendar application is not that great since there are numerous analogous programs that are reliable and safe to use. What is alarming about this potentially unwanted program is the fact that at times it could trigger random downloads without any authorization. The dubious calendar program could download browser hijackers and adware application without your knowledge. Even though this is not an often instance, it remains a possibility that could have devastating consequences to say the least. We firmly believe that running EasyCalendar is a risk too huge for any user to take; thus, its removal is naturally recommended.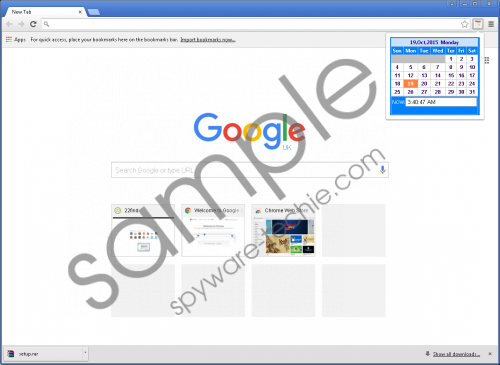 EasyCalendar screenshot
Scroll down for full removal instructions
There are a few preventative steps that you should take to reduce the risk of infecting your operating system with any dubious application. First and foremost, you should install a professional antimalware tool if you do not have one already. Such a tool will drastically improve your virtual security because it can detect suspicious behavior on your PC as well as it can notify about any questionable downloads or websites in advanced. In addition to such a tool we highly advise you to practice safe browsing habits. By downloading your software from authorized vendors' websites, you will be able to avoid bundled installers, which are infamously known to be the primary source of questionable and even malicious applications. By taking these preventative steps, you will make your operating system virtually unbreakable.
Make sure to conduct the removal of EasyCalendar carefully because even a single mistake during this procedure could result in a non-complete termination of this potentially unwanted program. This is an instance that you do not want to find yourself in because at times EasyCalendar could silently restore itself by using just some traces of it. Make sure to run an in-depth analysis of your PC for potential leftovers of this dubious colander application to be sure that you got rid of it in its entirety.
How to remove EasyCalendar from your web browser
Google Chrome
Launch the browser and simultaneously tap Alt+F.
Select Tools and then click Extensions.
Click the recycle bin icon placed next to the undesirable add-on and select Remove.
In non-techie terms:
We are aware of the fact that not all users feel comfortable removing EasyCalendar manually. If you are one of those users do not worry. Our research team has crafted a removal guide that will help you delete this potentially unwanted program in an automatic way.