Do you know what DynamicWPaper is?
DynamicWPaper is an adware application that tries to pass as a useful program. It may not be the most dangerous kid on the block, but it can still cause quite a lot of trouble if you let it run free. As an adware application, DynamicWPaper could expose you to potential computer security threats via its commercial pop-ups. It might seem that the application will provide you with some attractive function, but that is hardly plausible. You have to understand that, when you have adware programs on your PC, you need to terminate them immediately. Thus, the sooner you remove DynamicWPaper, the better.
You probably did not notice when you installed DynamicWPaper on your PC. This program does not slither into your system surreptitiously. It usually travels in software packages with other similar applications. You must have initiated the installation of this adware program when you downloaded some freeware app from a file-sharing website. Freeware apps are often bundled in third-party installers that usually allow you to choose which programs you want installed on your PC. The downside of this practice is that users are seldom attentive enough to read all the installation steps. Since they skip through the installation wizard, the likes of DynamicWPaper manage to enter target systems.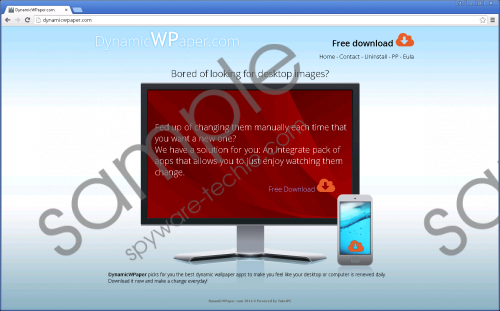 DynamicWPaper screenshot
Scroll down for full removal instructions
Many adware programs install extensions on default browsers to collect information about users' browsing habits and to spam them with annoying ads. DynamicWPaper is slightly different. This application does not add any extension to your browser, but it has a system process that runs in the background to help the program function properly. Through this process, DynamicWPaper can easily monitor your online activity and then generate custom commercial ads. Technically, the application should display offers and pop-ups related to screen wallpapers and other apps that provide you with wallpaper selections. However, there is also a possibility that the program will show you any type of commercial ads, depending on what website you are currently on.
What's more, DynamicWPaper can easily launch your browser to display a pop-up, even if all the browser windows are closed. That is definitely annoying and intrusive, so there is no need to allow it -- not to mention that sometimes the pop-up ads might be used by unknown third parties to promote their own content. You have to understand that DynamicWPaper is not and cannot be responsible for the third-party content security. Therefore, the program becomes a perfect vehicle for third-party content distribution, since it does not review it.
In the worst case scenario, it would not be too far-fetched to state that DynamicWPaper could be exploited by cyber criminals to redirect you to malware-related websites. Thus, if you do not get rid of this adware program at once, it is even possible to get infected with malware.
Please open your Control Panel and delete DynamicWPaper manually. If you notice any other unfamiliar applications, terminate them as well. The best way to locate all the potential threats is to scan your PC with the SpyHunter free scanner. An automated antispyware application will help you safeguard your system against similar intruders in the future. Also, if something does not go according to the plan when you try to eliminate the unwanted applications, do not hesitate to drop us a comment.
How to Delete DynamicWPaper
Windows 10, Windows 8.1 & Windows 8
Press the Windows key + R and the Run command box will pop up.
Type "Control Panel" into the Open box and click OK.
Go to Uninstall a program under Programs.
Highlight DynamicWPaper and click Uninstall.
Windows Vista & Windows 7
Click the Start menu button and navigate to Control Panel.
Select Uninstall a program and remove DynamicWPaper.
Windows XP
Open the Start menu and select Control Panel.
Double-click Add or remove programs and uninstall DynamicWPaper.
In non-techie terms:
If you are looking for interesting wallpapers, perhaps DynamicWPaper is not your safest bet. This program is an adware application, and it means that it is more interested in making money than in providing you with useful content. You will do yourself a favor if you remove DynamicWPaper from your computer right now. Adware programs sometimes lead to undesirable and even dangerous consequences that can also involve malware infection.