Do you know what DownSpeedTest Toolbar is?
DownSpeedTest Toolbar is a browser extension that adds a bar to the selected browser (Firefox, Chrome, or Internet Explorer). This bar is primarily supposed to help you test your Internet connection speed, but it also provides links to sites that can convert files, shorten URLs, and share files. Besides this, this toolbar also advertises the Ask search tool. Even though the links associated with DownSpeedTest Toolbar are not considered to be malicious, our malware research team recommends staying cautious. If you are not willing to take the time to research the services provided, it is best that you remove this extension right away. Continue reading, and you will find a few other reasons why deleting DownSpeedTest Toolbar might be a good idea.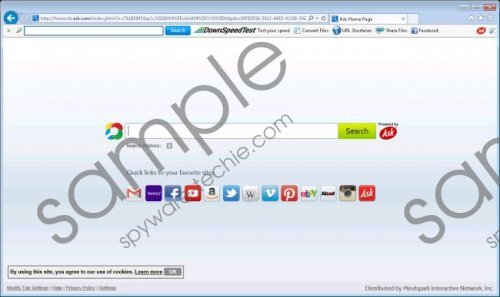 DownSpeedTest Toolbar screenshot
Scroll down for full removal instructions
There are two ways to acquire DownSpeedTest Toolbar. Some users download this toolbar from its official website, downspeedtest.com. This website was set up by the developer of this toolbar, Mindspark Interactive Network, and it provides a lot of information about the program. If, for some reason, you must install this toolbar, you should install it from its official site. Unfortunately, many users acquire it bundled with malware and undesirable programs. If you find that you have downloaded DownSpeedTest Toolbar packaged with dangerous infections, you should not postpone their removal any longer. Have you found EasyDocMerge Toolbar, SMSFromBrowser Toolbar, or other Mindspark programs installed along with DownSpeedTest? We have found that Mindspark programs can travel in bundles, and that is extremely annoying because these toolbars take up space and use resources. Luckily, you can remove all of these toolbars using one method.
If you do not care that DownSpeedTest Toolbar can expose you to unreliable links or spy on you using tracking cookies, you might want to delete this toolbar after finding it installed with Ask Search. Even though all users are likely to have the option to refuse search provider modifications, some users believe that Ask is a dangerous browser hijacker that requires immediate removal. Even though Ask is not a hijacker, no one is stopping you from removing this search tool if you have installed it by accident. You can remove it even if you do not want to delete DownSpeedTest Toolbar, as they are separate pieces of software. Our manual removal guide will help you delete the undesirable programs, extensions, and search tools. Unfortunately, we cannot guarantee that these instructions will help you remove malware if it has entered your system bundled with this toolbar. In this case, use automated malware removal software.
Delete DownSpeedTest Toolbar from Windows
Delete from Windows 8 or Windows 8.1
Access the Charm bar in Metro UI and click Search.
Enter Uninstall a program to find the utility and click it.
Right-click the program you wish to remove and select Uninstall.
Delete from Windows Vista or Windows 7
Open the Start menu from the Taskbar (click the Windows logo).
Select Control Panel and move to Uninstall a program.
Right-click the program you wish to remove and select Uninstall.
Delete from Windows XP
Click the Start button on the Taskbar and select Control Panel.
Double-click Add or Remove Programs and go to Change or Remove Programs.
Select the undesirable application and click Remove.
Remove undesirable extensions and search tools
Remove from Google Chrome
Open the browser, simultaneously tap Alt+F, and select Settings.
Under On Startup, select Open a specific page or set of pages and click Set pages.
Overwrite/delete the URL representing the undesirable search tool and click OK.
Navigate to Appearance, mark Show Home button, and click Change.
Overwrite/delete the URL representing the undesirable search tool and click OK.
Move to Search and click Manage search engines…
Set a new search tool and remove (click X on the URL) the undesirable search tool. Click Done.
In the menu on the left select Extensions and find the undesirable add-on.
Click the trash icon, select Remove, and restart your browser.
Remove from Internet Explorer
Open the browser, simultaneously tap Alt+T, and select Manage Add-ons.
Select Search Providers, set a new default search provider, and Remove the undesirable one.
Click Close, simultaneously tap Alt+T again, and select Internet options.
Click the General tab and change/delete the Home Page URL.
Click OK and restart your browser.
N.B. You do not need to delete DownSpeedTest Toolbar from Internet Explorer if you uninstall this program via Control Panel first.
Remove from Mozilla Firefox
Open the browser, simultaneously tap Alt+T (Tools menu), and select Options.
In the menu on the left click General and find the Home Page section.
Change/delete the undesirable Home Page URL.
In the menu on the left click Search and set the preferred search provider.
Remove the undesirable search provider.
Simultaneously tap Ctrl+Shift+A to access the Add-ons Manager in the new tab.
Move to the Extensions menu, Remove the undesirable add-on, and restart your browser.
In non-techie terms:
Even though DownSpeedTest Toolbar is not considered to be a malicious infection, most users choose to delete it from their browsers because it does not offer very beneficial or reliable services. Even more users choose to remove Ask Search that always comes bundled with this toolbar. Even though users can refuse this browser extension, not all users are careful enough during the installation of software. If you want to remove DownSpeedTest Toolbar and Ask Search – or one of the two – you can follow the manual removal guide below.