Do you know what DownloadManagerTool Toolbar is?
DownloadManagerTool Toolbar is an application that could easily lead to severe computer security issues. Most of the time, users do not even understand how this program managed to enter their systems. This happens because DownloadManagerTool Toolbar is often included in software bundles that are available for download at number freeware sharing websites. If you did not intend to have this browser extension on-board, you should remove DownloadManagerTool Toolbar ASAP. The program might as well be used by malevolent third-parties to steal your personal information or expose you to other malware-related websites, so you should definitely prevent that from happening.
We cannot consider DownloadManagerTool Toolbar a malicious infection because this browser toolbar can be downloaded directly. The application has an official website, and you can access it via downloadmanagertool.com. However, as mentioned above, the main homepage seldom plays an important part in the program's distribution network. It is far more likely that DownloadManagerTool Toolbar travels bundled with unwanted applications, and users install it blindly, as they go through the freeware installation process automatically.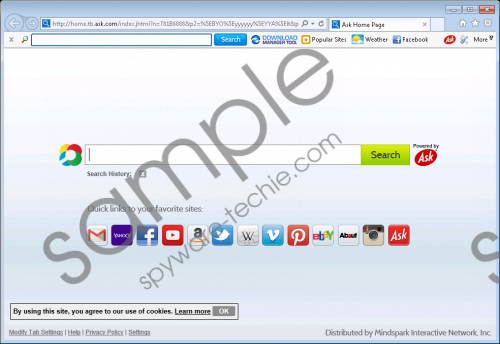 DownloadManagerTool Toolbar screenshot
Scroll down for full removal instructions
That is one of the main mistakes that users make nowadays. If you install DownloadManagerTool Toolbar without checking all the setup steps, you will be up for an unpleasant surprise the next time you open your browser. DownloadManagerTool Toolbar comes with additional features like the Ask Search engine. All programs from the MindSpark family (like FunCustomCreations Toolbar, EmailFanatic Toolbar, or BigGameCountdown Toolbar) have this feature, and because of that they are often mistaken for browser hijackers. Please understand that browser hijackers do not even bother informing you about the browser modifications when they enter your systems. However, DownloadManagerTool Toolbar does notify you that your default homepage and search engine will be changed to ask.com. What's more, you have the opportunity to avoid this modification. The problem is that users often miss this chance because they breeze through the installation without checking anything.
The toolbar says that it can help you manage your downloads, but the real reason it enters your PC is money. DownloadManagerTool Toolbar is associated with a number of adware services that promote third-party content and generate financial revenues via the pay-per-click system. This kind of business network is not malicious on its own, but it is highly vulnerable to third-party exploitation. Thus, if you keep DownloadManagerTool Toolbar on your computer, you risk exposure to online schemes and cyber crime networks.
DownloadManagerTool Toolbar does not try to infect you with malware on purpose, but the toolbar cannot really guarantee the sites it redirects you to are reliable. Hence, you need to take your computer security into your own hands and remove DownloadManagerTool Toolbar right now.
Delete the toolbar via Control Panel and then restore your browser settings manually. We provide the manual removal instructions below this description, but it might not be enough to ensure your system's safety. You should definitely scan your PC with the SpyHunter free scanner because you are bound to have more unwanted apps installed. You can breathe a sigh of relief only when you remove all the uninvited guests and protect your PC from similar threats.
How to Delete DownloadManagerTool Toolbar
Windows 8 & Windows 8.1
Slide the mouse cursor to the lower right of your desktop.
Click Settings on the Charm bar and go to Control Panel.
Select Uninstall a program and remove DownloadManagerTool Toolbar.
Windows Vista & Windows 7
Click the Start menu and go to Control Panel.
Open Uninstall a program and remove DownloadManagerTool Toolbar.
Windows XP
Open the Start menu and select Control Panel.
Navigate to Add or remove programs and uninstall DownloadManagerTool Toolbar.
Reset Your Browser Settings
Google Chrome
Press Alt+F and select Settings.
Click Show advanced settings at the bottom of the screen.
Scroll down and press the Reset Settings button.
Click Reset.
Internet Explorer
Press Alt+T and click Internet options.
Open the Advanced tab and click Reset.
Mark the Delete personal settings option and press Reset.
Click Close.
Mozilla Firefox
Press Alt+H and click Troubleshooting information.
When the new tab opens, click Refresh Firefox.
Press Refresh Firefox again and click Finish.
In non-techie terms:
DownloadManagerTool Toolbar promotes itself as a useful tool that enhances your web browser's functionality. However, it comes with additional features that might not be as useful as you think. If you care about your computer's security, you will have DownloadManagerTool Toolbar removed immediately. For any further questions on how to ensure your computer's stability, do not hesitate to leave us a comment below.