Do you know what DownloadMagnet is?
If you are looking for a file download manager, we advise you to try to avoid DownloadMagnet, which has been categorized as a potentially unwanted program (PUP) by our researchers. This PUP has exhibited some worrisome traits even if it does not mean direct danger to your operating system. According to our researchers, it is advisable to remove DownloadMagnet because it proved to be an unreliable and questionable application while it was tested in our internal lab. It seems that this PUP mainly spreads in bundles, which can be a source of multiple threats to your virtual security. If you want to find out more about the risks regarding this application and the related threats, please read our full report.
This potentially unwanted program has been found identical to EZDownloader and Fdownloader, which are both PUPs we have already covered on our website. It seems that you cannot trust DownloadMagnet as it simply fails to deliver what it promises on its promotional website, downloadmagnet.info. You should not give in to the sophisticated promotional wording, such as "comprehensive solution", "intuitive interface", and "multi protocol support" because, at the end of the day, this is just an unreliable application that may be simply used to smuggle malware infections in a freeware bundle onto your computer. It is also possible that this PUP starts to collect sensitive information about you. If third parties can access this, your personal data might be misused.
Although you can download DownloadMagnet from its site, it is possible that an up-to-date security tool would block it as a suspicious file. That is certainly not a trait that makes you want to have this application on your computer. According to our researchers, however, it is more likely that this PUP arrives in a software package. And you can be sure that the package will most probably contain a few nasty malware infections as well. Have you noticed annoying third-party advertisements popping up while you were browsing the web? If so, there may be adware programs present on your system. Most of these threats you can actually identify by checking the list of installed programs in Control Panel. Some you will find as extensions in your browser settings. In order to make sure that your PC is all secure, you should delete DownloadMagnet and run a full system scan to detect all other threats as well.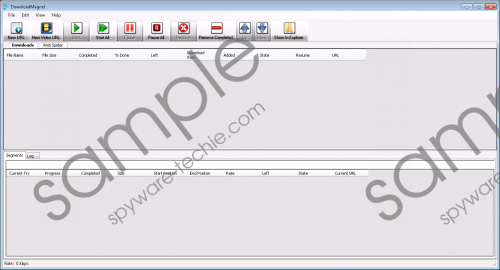 DownloadMagnet screenshot
Scroll down for full removal instructions
It is important to remember that you can infect your computer with such malicious bundles if you visit shady file-sharing websites and click on a well-disguised third-party ad. You may have noticed that these sites host a lot of third-party advertising, such as banners and pop-ups. However, a lot of times these are very misleading and can pose as Next page buttons or Download buttons. Clicking on these fake buttons can easily result in an infected bundle on your computer.
If you make up your mind and want to eliminate DownloadMagnet, you can easily do so by running its uninstaller in Control Panel. Please follow our instructions below if you are unfamiliar with this process. Keep in mind that there could be more threats challenging your Windows operating system right now and you need to remove them all if you want to feel safe. For the best protection of your PC, we suggest that you install a reputable antimalware application. If you need assistance regarding the removal of DownloadMagnet, please leave us a comment below.
DownloadMagnet Removal from Windows
Windows XP
Press Win+R and type in Control Panel. Press OK.
Click Add or Remove Programs.
Select the application and press Remove.
Windows Vista/Windows 7
In the Start menu open Control Panel.
Select Uninstall a program.
Select the application and press Uninstall.
Windows 8/Windows 8.1/Windows 10
Press Win+Q and enter Uninstall a program. Press Enter.
Select the application and press Uninstall.
In non-techie terms:
DownloadMagnet is a worthless application that pretends to be a useful and up-to-date file download manager. However, it is nothing more than a potentially unwanted program that needs to be removed from your computer if you want to make sure your virtual world is safe. Since this PUP may arrive in a bundle together with malware programs, you may have several more threats to worry about. Therefore, we suggest that you use a professional malware remover in order to safeguard your PC from infections.