Do you know what Donkick is?
Donkick is an adware application that is meant to make you "view the Internet like never before," according to its official website. Unfortunately, reality falls short of expectations. As far as we can see, this software, made by Super Web, LLC, only shows you commercial ads. Keeping in mind that there are hundreds of thousands of adware applications that do the same thing, we have to suggest that Donkick is nothing new. If it does not do anything special, why would you want it on your computer? Remove Donkick and save your computer from ads.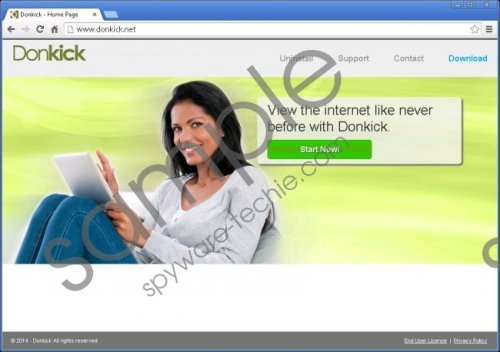 Donkick screenshot
Scroll down for full removal instructions
Like most, if not all, adware applications out there, Donkick works by setting itself up as a browser extension on Internet Explorer or Mozilla Firefox. Updated versions of Google Chrome seem to block it automatically. If one web browser blocks it, why not delete it on the others? Once it is on your web browser, Donkick starts collecting your Internet browsing data. It tracks, among other things, the websites you visit, adverts that successfully tempt you into clicking them, and things you look for on shopping websites. Once it has gathered enough information, Donkick starts showing you various ads, trying to predict the most likely thing you would click on. Don't let applications you don't know track you. Remove Donkick.
The business model of applications like Donkick requires accurate prediction of your likes and dislikes to figure out which third-party ads would interest you the most. This is important, because, with each advertisement you click, Donkick developers receive a small amount of money due to a pay-per-click agreement with third-party partners. What is concerning about this is that you do not get compensated for the part you played in this scheme. You are the one who actually increases the Internet traffic to that specific website, yet all the money is being made by others. It's like working for free. Generally, people do not do it, so why would you keep Donkick on your computer? Remove it at once.
Once the decision to get rid of Donkick is made, there are two options available to you. You can either uninstall it manually or automatically. We find automatic removal with a professional antispyware program to be better, because you can make sure that any trace of adware, as well as any other threats to your system, are taken care of with a click of your mouse. While you can delete Donkick manually without much difficulty, you can never know if some threat you did not know remains. For manual removal of Donkick, follow the instructions below.
Manual Donkick Removal
Windows XP
Click Start and go to Control Panel.
Click Add or Remove Programs.
Find Donkick, right-click it, and click Remove.
Windows 7 and Windows Vista
Click the Windows button and go to Control Panel.
Click Uninstall a program.
Find Donkick, right-click it, and click Uninstall.
Windows 8
Right-click the bottom-left corner of your Desktop.
Click Control Panel and go to Uninstall a program.
Find Donkick, right-click it, and click Uninstall.
In non-techie terms
Donkick is an adware application that provides no worthwhile service to you, yet annoys you with commercial advertisements and even makes money for its developers if you click any of the ads. You do not get compensated for this at all. We think that you should remove this useless application at once.