Do you know what Discover Treasure is?
Our researchers have classified Discover Treasure as an ad-supported program, because its main purpose is to subject you to commercial content of questionable legitimacy. Therefore, we suggest that you remove this program if you want to avoid the bonus of added security threats that come as a result of having Discover Treasure installed on your computer. In addition, this adware application is likely to gather information about your browsing habits in an effort to tailor the ads. This program has no added value that could benefit your browsing experience. It will only nag you with constantly appearing advertisements that may promote unreliable websites and malicious software. We invite you to learn more about this application provided that you have it installed.
Discover Treasure is currently being promoted on a website called Discovertreasurenow.com. But this website is not used to distribute it. This adware program is known to be distributed via software bundles. This means that Discover Treasure is hidden within a software bundle that users can download from software sharing websites, such as Software.informer.com. Malware containing software bundles are usually made in a confusing manner as they try to hide unreliable software. However, such bundles must have the option of removing additional software. So you can remove Discover Treasure by opting for advanced/custom installation settings. Note that this adware program has numerous clones that include the likes of Wander Burst, Gravity Space, and Sale Charger. Now that you know how it is distributed and how you can avoid similar programs in the future let us move on to how it works.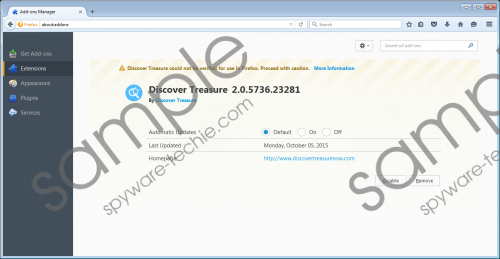 Discover Treasure screenshot
Scroll down for full removal instructions
Discover Treasure comes as an application as a browser extension for Internet Explorer, Chrome, and Firefox. Even though Edge does not support browser extensions, this program may still show ads on it. So Discover Treasure's ads come in various different shapes and sizes that include but are not limited to banners, browser-related ads, transitional ads, text links, interstitial and full page advertisements. As mentioned, this adware may promote shady advertisements and software. So do not be surprised that you computer becomes infected with more adware, because adware developers promote one another's software. Online advertising is a tightly-knit business so everybody knows everybody.
We cannot wrap up this article without mentioning Discover Treasure's information collecting abilities. First of all, the information that is collected automatically is anonymous in nature, so nothing personal can be obtained. Still, this non-personal information includes browsing history, search queries, Internet Protocol address, approximate geographical location, PC settings, browser type, and so on. This information is used to customize the ads because one needs to click an ad in order for the developers to get paid.
All things considered, our initial classification of this program cannot be dismissed, because Discover Treasure is clearly an ad-supported program. Its promoted content is supplied by third-party advertisers of questionable legitimacy. Therefore, we fear that this program can subject you to ads of unreliable and potentially malicious software and websites. it is also very annoying and somewhat disturbing that this program's developers and their clients can get hold of information about you, so that they could display tailored advertisements. So we invite you to delete Discover Treasure right now.
Remove Discover Treasure from the operating system
Windows 10
Navigate the mouse cursor to the bottom left corner of the screen.
Right-click on the Start menu.
Click Control Panel and go to Uninstall a program.
Identify Discover Treasure and double-click on it.
Uninstall.
Windows 8 and 8.1
Navigate the mouse cursor to the bottom right corner of the screen.
Open the Charm bar and click Settings.
Go to Control Panel.
Click Uninstall a program.
Identify the adware program.
Right-click on it and click Uninstall.
Windows 7 and Vista
Navigate the mouse to the bottom left corner of the screen.
Open the Start menu and click Control Panel.
Select Uninstall a program.
Identify the program.
Right-click on it and click Uninstall.
Windows XP
Open the Start menu and open Control Panel.
Click Add or Remove Programs.
Identify Discover Treasure and click Remove.
I non-techie terms:
Discover Treasure is an unreliable program because it displays commercial advertisements of unknown origin. So its ads are not only annoying, but they also pose although be it slight security risk, since it is bound to promote more adware that can further compromise your computer's security. It also collects non-personal information about you that is used for advertising purposes. This program has nothing useful on offer, so we suggest removing it.