Do you know what Dealster is?
Dealster is an advertising-supported browser add-on that is supposed to ease your online shopping. The program is programmed to scan websites and provide the user with special offers, coupons, and other advertisements so that you can find the best prices. However, the truth is quite the opposite because Dealster disturbs computer users with obtrusive advertisements that have nothing to do with their browsing interests. If you have Dealster on the computer, you know what most of the advertisements displayed by Dealster are generated randomly and are not related to the content of the website you are browsing.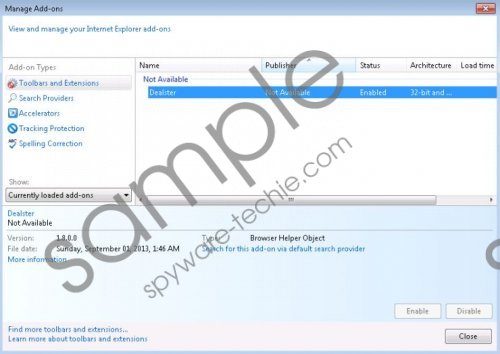 Dealster screenshot
Scroll down for full removal instructions
Dealster is a JustPlugIt-based browser add-on, which means that this program is capable of randomizing its name just like other programs based on this browser add-on creation platform. Dealster is very similar to LuckyCoupon, SaverOn, Less2Pay, RightCoupon, and some other browser add-ons that are supposed to function as shopping assistants.
Dealster should be removed from the computer because the owners of the program accept no responsibility for the commercial offers you are provided. It means that you use the program at your own risk. Dealster is not liable for third parties, which have their separate privacy policies and terms of use. Hence, you should not trust every single website that you access using the Dealster program because some of them may be deceptive. When you access a phishing website, you may be misled into downloading and installing insecure software programs or revealing your personal information to third parties. Every suspect website should be researched in order to make sure that you can trust it; otherwise, you may not like the consequences.
Dealster is also capable of gathering certain information about you. The program automatically records clicks, impressions, search terms, browsing history, browser settings, browser language and some other non-personally identifiable information. This information about you is recorded for the purpose of drawing some conclusions about your browsing habits and enhancing the quality of the program, which is likely to result in the display of targeted advertisements. Hence, we advise you to remove Dealster from the computer.
Our instructions below should help you uninstall the program, but we recommend that you implement a reputable spyware and malware prevention program. More specifically, we recommend using SpyHunter because this security program removes Dealster in no time and shield the computer from various threats, including Trojan horses, ransomware infections, browser hijackers, and many other threats.
How to remove Dealster
Windows Vista and Windows 7
Click Start.
Select Control Panel.
Click Uninstall a program and remove Dealster.
Windows 8
Press the Windows key to get to the Start menu.
Start typing control panel and click the Control Panel icon.
Click Uninstall a program and remove Dealster.
Windows XP
Open the Start menu.
Click Control Panel.
Select Uninstall a program.
Remove the unwanted program.
In non-techie terms:
It is worth scanning the computer after removing the unwanted program because you want to be sure that the computer is adware-free. If you want to implement our recommended program, use the below-given instructions and feel free to leave a comment in the comment box if you have any questions regarding the removal of the program.