Do you know what DealCoaster is?
Numerous third-party ads and annoying pop-ups are the primary indications that an adware applications known as DealCoaster is active on your operating system. If, unfortunately, this is the case, you should be aware that its removal should be executed as soon as possible. Do not get fooled by the hoax marketing strategies employed by the vendors of this application. Various promises that you will be presented with best discount deals and coupons while shopping online are just a trick used to lure unsuspecting users into downloading and installing this useless application. In reality DealCoaster is only capable of disturbing your web browsing sessions; thus, making web surfing a frustrating and annoying experience. Make sure to remove DealCoaster as soon as possible otherwise the annoying activity that it promotes will make your life miserable, to put it mildly.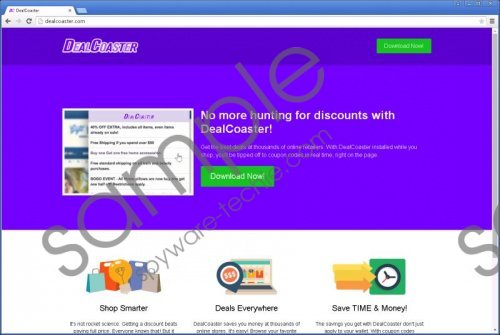 DealCoaster screenshot
Scroll down for full removal instructions
It has been discovered that DealCoaster is closely related to adware programs such as Price-hipo, PriceHorse, ProShopper and quite a few others. Therefore, it is quite natural that all of them function in a very similar way. Once DealCoaster enters your operating system your browser will almost instantly get flooded with unwanted third-party content. In most cases, the unwanted content manifests as banner ads and annoying pop-ups. This activity quite naturally will make browsing the web a frustrating and annoying task, to put it mildly. You will be forced to fight through all of those ads and pop-ups every time you will browse the web. It has been found out that all the ads presented by this intrusive adware application are utterly useless; thus, it will in no way help you save time or money while you are shopping online. If you wish to stop this intrusive activity that this adware promotes you will need to execute a thorough removal of it as soon as possible. Use the removal guide that we provide below as it is easy to follow. If you fail to remove DealCoaster, the bothersome activity will continue.
Besides being annoying, DealCoaster could turn out to be quite malicious. Our malware researchers have discovered this. It is now known that some ads provided by this adware could be implemented with redirect links, which is a dangerous instance to say the least. By clicking on a single ad presented by this adware you could end up on a suspicious third-party website. For example, you could end up on a site that runs an arbitrary code execution exploit meaning that just entering such a website is more than enough to get your operating system infected with some unknown malware. Such a possibility is obvious a major virtual security threat that should not be faced by any users. Do not take any chances with DealCoaster and remove it without any hesitation.
The removal procedure should be executed as soon as you can since DealCoaster imposes major virtual threats, and its removal is the only way to eliminate them. Make sure to check your PC for potential leftover files and registry entries associate with DealCoaster to be sure that every single bit of this adware was removed. This is paramount since we have found out that in some case this adware could be silently restored.
How to remove DealCoaster from your PC
Remove the unwanted adware from Windows Vista and Windows 7
Click the Windows button and go to Control Panel.
Click Uninstall a program.
Right-click DealCoaster.
Select Uninstall.
Remove the unwanted adware from Windows XP
Tap the Windows key which is located on your keyboard.
Select Control Panel and click Add or Remove Programs.
Remove the unwanted application.
Remove the unwanted adware from Windows 8
Move the mouse pointer to the lower-left corner of the screen.
Right-click and select Control Panel.
Click Uninstall a program.
Select DealCoaster and click Uninstall.
In non-techie terms:
If you are a users that feel uncertain about performing manual removal you should follow the instructions that we provide below. It is alternative way that you can remove this adware without encountering any major problems.