Do you know what DDLManager is?
As one can probably tell, DDLManager is a download manager that has been created to help users manage their downloadable files. This application has a French menu, so it is intended mainly for the French speaking users. Although technically this application is not a malicious computer threat, users are often recommended to remove DDLManager from their computers, as the application is labeled as a potentially unwanted program.
One of the most important reasons why DDLManager should not be trusted is because this application is often bundled with freeware, and it CANNOT be downloaded at its official home page. The website can be accessed via ddlmanager.com. However, the download link does not lead anywhere, so the main home page clearly does not distribute the application anymore. That is not a problem for this program, however, as it often travels bundled with freeware. For example, DDLManager is known to be bundled with Wajam, MyPCBackup, Pricora, SearchProtect, Bubbledock and other freeware applications.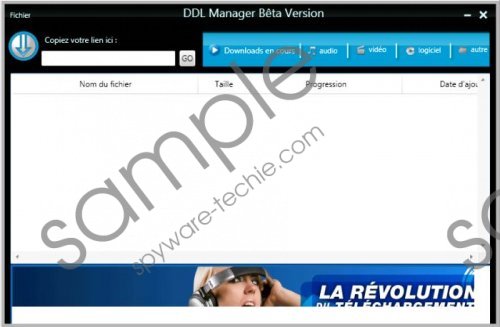 DDLManager screenshot
Scroll down for full removal instructions
What is more, all of the programs DDLManager comes bundled with are consider potentially unwanted applications themselves. It just proves that freeware applications that may cause computer security issues seldom travel alone. Not to mention that SearchProtect is directly related to Conduit browser add-ons, so we cannot rule out the possibility that DDLManager can be bundled Conduit toolbars as well.
DDLManager may indeed help you manage your downloads, but this application may also function as adware. It means that through this download manager you could be exposed to potentially corrupted third party content. When it comes to adware, it is always the third party content and not the application itself that is the most risky. Naturally, DDLManager does not want to infect you with malware or cause you any harm, but this application cannot be responsible for the third party content, so in order to avoid any potential security risks it would be for the best to uninstall DDLManager right now.
It is rather easy to remove DDLManager via Control Panel, but keep in mind that even so some files or registry keys are bound to be left behind. Thus, to take care of these files you need to invest in a computer security application that will scan your system and then delete unwanted and/or dangerous files and programs automatically.
Do all you can to terminate DDLManager and then make sure that such applications do not enter your system again. For any further information, please do not hesitate to leave me a comment.
Uninstall DDLManager
Windows 8
Slide mouse cursor to the bottom right of your desktop.
When Charm bar appears, click Settings and go to Control Panel.
Open Uninstall a program and remove DDLManager.
Windows Vista & Windows 7
Open Start menu and click Control Panel.
Go to Uninstall a program and remove DDLManager.
Windows XP
Open Start menu and navigate to Control Panel.
Select Add or remove programs and uninstall DDLManager.
In non-techie terms:
DDLManager is a potentially uwnatned application that could be used by dangerous people to steal your expose you to malicious content. That is why it is strongly recommended to remove DDLManager from your computer as soon as possible.
Aliases: DDL Manager.