Do you know what CyboScan PC Optimizer is?
CyboScan PC Optimizer is a system optimization tool classified as a potentially unwanted program (PUP). This application received this classification because it does not live up to its promises, and it is very possible that the program arrives at your system uninvited. Luckily, it is not that hard to remove CyboScan PC Optimizer manually, and for that, you can find the manual removal instructions right below this article. On the other hand, if you think that there might be more undesirable applications on your computer, you should run a full system scan with the SpyHunter free scanner.
Our research lab team has always been adamant about warning us about optimization tools. They say that, most of the time, these tools do not do their job. What's more, sometimes they can even delete important registry entries, rendering your system unresponsive. Of course, that is probably the worst-case scenario, but CyboScan PC Optimizer is definitely one of those programs that should not be trusted. It only takes space and system resources, and it cannot provide you with anything useful. What's more, it may even push you into purchasing a product that cannot optimize your system.
You see, when this application gets installed on your computer, it first gives you a seven-day trial. It means that you can use this application for free for a week, and then you should purchase the full version of the application if you were to continue using CyboScan PC Optimizer. However, we think that after the trial users would be convinced that this program cannot live up to its promises. It says that it will fix your registry issues, reduce the number of system crashes, defragment your disk, and so on. However, that is very far from the truth.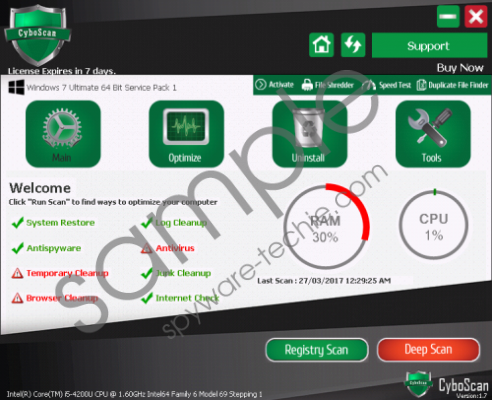 CyboScan PC Optimizer screenshot
Scroll down for full removal instructions
Instead of fixing the supposed errors, CyboScan PC Optimizer opens Windows system utilities that are built-in for various necessities. When you think about it, why would you need to subscribe to a program that simply redirects you to the services you already have on your computer? Therefore, you can see that this application cannot help you with much, and thus it should not remain on your computer. What's more, if there is this one potentially unwanted program, the chances are that you have several other installed on your PC, too. Why? It is because of the way these programs spread around.
Of course, this application has an official homepage, and we can access it through cyboscan.com. The page comes with a direct download button that works just fine. Hence, we cannot say that the application intends to enter your system surreptitiously. Nevertheless, it can also arrive at your computer in a software package. If you download freeware from file-sharing sites on a regular basis, you will eventually encounter potentially unwanted programs that will seem to pop up out of nowhere. Hence, if CyboScan PC Optimizer really entered your PC through a software bundle, then it is very likely that it was not the only undesirable program that got installed on your system.
There is something that CyboScan PC Optimizer does after all. The program can clear your temporary files, browser cookies, browsing history, and cache. Of course, you can also do that yourself, but it is very unlikely that this function can improve your computer's performance by much. CyboScan PC Optimizer does not start automatically with your operating system, so it will not pop up on your screen at once. You may also have to scan your system with a licensed security program to locate this application.
Either way, the bottom line is that CyboScan PC Optimizer is not a reliable system optimizer tool. The program does not provide you with all the services it boasts about, and it can be rather annoying. It may also trick you into spending money on service that does not deliver.
Therefore, remove CyboScan PC Optimizer right now, and protect your computer from similar intruders by acquiring a powerful antispyware tool. You should also consider changing your web browsing habits, because that might also be the reason you end up downloading these undesirable applications. For more tips, please do not hesitate to leave us a comment.
How to Remove CyboScan PC Optimizer
Press Win+R and the Run prompt will open.
Type %PROGRAMFILES(x86)% into the Open box and click OK.
Remove the Cyboscan folder from the directory.
Press Win+R again and enter %AppData%. Press OK.
Navigate to Microsoft\Windows\Start Menu\Programs.
Remove the Cyboscam PC Optimizer from the directory.
Delete the PC Optimzer shortcut from your Desktop.
In non-techie terms:
CyboScan PC Optimizer may look like your new best friend, but it is far from this. This potentially unwanted program wants to pass for a system optimization tool. However, it does not have the functionality it promotes, and it may also swindle you out of your money, by offering a subscription that is simply not worth it. Our security team recommends that you remove CyboScan PC Optimizer from your system right now. It is for the best to get rid of a program that does not work properly.