Do you know what Crime Watch is?
If you're what's colloquially called a crime buff, Crime Watch might look like it's right up your alley. It offers you the latest updates concerning the crime news all around the world. The truth is that it's not very likely that all promises made by Mathematical Applications, who developed this piece of adware, will be delivered upon. You're more likely to get your browsing interrupted by ads. Before long, you might want to remove Crime Watch. We can help you with that.
Like all adware, Crime Watch is mostly distributed via freeware bundling. When you install a free program, there will, more often than not, be optional programs you can install. If you miss these offers while trying to get through the setup faster, that counts as nominal agreement, because the boxes stating that you don't mind installing this or that program are checked by default. This is how bundling works. It preys on people's lack of attention to get more stuff installed.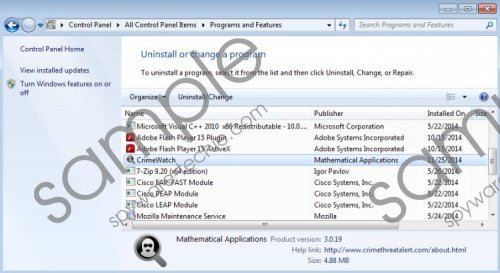 Crime Watch screenshot
Scroll down for full removal instructions
Once you install Crime Watch, it will start showing you a small button at the top-right corner of your browser. If you click it, latest news about crime pops up. Sadly, this is not all that Crime Watch does. It also accesses your browsing data via cookies and uses the information it gets from the selection of your favorite webpages to show you targeted ads. Each time you click one, people behind Mathematical Applications get some money. You get nothing. Seeing as you can reach news about crime on other sources that will probably present it better, we see no reason to keep Crime Watch.
While removing Crime Watch manually is not hard at all, by doing it this way, you won't be able to know if you have any threats on your system. In the age of information, protection of your personal data is of utmost importance, so you should check your computer for spyware with a professional tool. If you got Crime Watch, your PC could contain something dangerous too. We find that SpyHunter fits our needs perfectly for this purpose. It finds all threats, promptly removes them and continues guarding our computers with real-time protection. However, if you prefer to remove Crime Watch by yourself, we can't fault you for that, because the important thing is to get rid of it. The instructions for manual removal are provided below.
Remove Crime Watch Manually
Windows XP
Click Start, go to Control Panel.
Click Add or Remove Programs, find and click Crime Watch.
Click Remove.
Windows 7 and Windows Vista
Click the Windows button, go to Control Panel.
Click Uninstall a program, find and click Crime Watch.
Click Uninstall.
Windows 8
Right-click the bottom-left corner of your Desktop. Go to Control Panel.
Click Uninstall a program, click Crime Watch.
Click Uninstall.
In non-techie terms:
Crime Watch is an adware application that promises to get you acquainted with latest crime news all around the world. While it does somewhat deliver on these promises, Crime Watch also shows you commercial advertisements that could lead you to third-party websites, which can be dangerous sometimes. We recommend removing Crime Watch from your system.