Do you know what CreateDocsOnline Toolbar is?
CreateDocsOnline Toolbar is a browser extension that is a potentially unwanted program. It comes offering a specific function that most of the users can easily get elsewhere. What's more, the application tends to enter target systems uninvited, and thus users do not want to use it. If you happen to be one of those users who accidentally found the application on their computers, you have opened the right page. We will show you how to remove CreateDocsOnline Toolbar manually, and you will be able to resume browsing the web as you were used to.
Needless to say, the best way to protect yourself from unwanted applications is to avoid installing them in the first place. To avoid this installation, you need to know how this program spreads and how to recognize it. Pushing the official distribution source aside for a while, we need to take a look at the more common distribution method is used by this and other programs from the same family. CreateDocsOnline Toolbar tends to come in software packages with other freeware applications. Users often download such programs from file-sharing websites, random blogs, and other third-party sources. It sure sounds attractive when you can get some program for free, but you have to remember that there usually is a catch to it.
The freeware application you download from a random website usually comes in a third-party installer that bundles several programs together. CreateDocsOnline Toolbar could be one of those programs, and if you breeze through the installation wizard, you would install all the unnecessary applications automatically. Hence, one of the best ways to avoid adding this extension to your browser is to stay away from file-sharing websites and be attentive during software installation. That should be enough to prevent random applications from entering your system.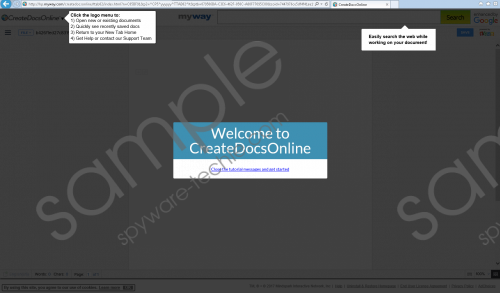 CreateDocsOnline Toolbar screenshot
Scroll down for full removal instructions
However, let us not forget that there is always the official website for this extension. Just like AllInOneDocs Toolbar, OnlineFormFinder Toolbar, QuickWeatherTracker Toolbar, and many other programs from the Mindspark family, this extension can be downloaded directly from createdocsonline.com. This shows that the application is not a malicious computer infection, but yet we are sure that only a fraction of users who have this program on their computers downloaded it from the official website. After all, if you need to create document files, you would probably refer to a popular online engine, rather than a random third-party application that does not even show at the top of the search results.
Therefore, it can be both surprising and frustrating when suddenly CreateDocsOnline Toolbar changes your homepage and even adds its own search engine into your new tab settings. It looks intrusive and definitely does not make you trust this application at all. What's more, the extension uses the search.myway.com search engine to provide you with search results, and those search results can be modified. It means that the program can collect information about your web browsing habits and then use this information to modify the said search results with custom content.
One should never trust custom content delivered by a third-party application because there is no way to ensure it is safe. In other words, CreateDocsOnline Toolbar might also get exploited by unreliable third parties. In fact, in the worst-case scenario, the extension could be misused by cyber criminals to expose you to malware. Of course, that does not happen too often, but you should consider all your options and risks before keeping this application. After all, if you did not plan to have the toolbar installed, there is no need to tolerate it.
Please note that you will have to apply different CreateDocsOnline Toolbar removal methods, depending on your default browser. In fact, even if you do not use the Internet Explorer browser, you may have to check whether this program has an entry in the list of installed programs via Control Panel.
When the manual removal is complete, you should also use the SpyHunter free scanner to scan your computer through and through. You might have missed a few files or even other programs that need to be terminated, so the best way to ensure that they do not go unnoticed is to rely on a security program of your choice. It would also help you protect your computer from other potential threats.
How to Delete CreateDocsOnline Toolbar
Internet Explorer
Press Win+R and Run prompt will open.
Type Control Panel into the Open box. Click OK.
Navigate to Uninstall a program.
Remove CreateDocsOnlineTooltab Internet Explorer Homepage and New Tab.
Firefox
Press Win+R and enter %AppData%. Hit Enter.
Open Mozilla\Firefox\Profiles\[PROFILE]\extensions.
Remove the _j4Members_@free.createdocsonline.com file.
Chrome
Press Win+R and enter %LocalAppData%. Click OK.
Go to Google\Chrome\User Data\[PROFILE]\Extensions.
Remove the moghnflhlcpjkjkpnpgebffcjbmifljk folder.
Navigate to Google\Chrome\User Data\[PROFILE]\Local Extension Settings.
Delete the moghnflhlcpjkjkpnpgebffcjbmifljk folder.
Open Google\Chrome\User Data\[PROFILE]\Sync Extension Settings.
Delete the moghnflhlcpjkjkpnpgebffcjbmifljk folder.
In non-techie terms:
CreateDocsOnline Toolbar may not be your average malware infection, but this program could still be quite annoying if it seemingly appears out of nowhere. It is strongly recommended that you remove Delete CreateDocsOnline Toolbar from your computer because the application does not offer any useful function. What's more, the extension may exhibit potentially risky behavior by exposing you to unreliable third-party content. Thus, the sooner you get rid of this program, the better.