Do you know what CouponThing is?
It goes without saying that a program called CouponThing should be removed without any hesitation from your PC as it is nothing more than yet another intrusive adware. This application is mostly promoted as a helpful tool at frequent online shoppers since it should present you with a variety of discount deals, coupons, and promotional codes, which consequently should allow you to save time and money. All such claims are just a marketing gimmick employed by the creators of this ad-supported program used to lure unsuspecting Internet users into downloading and installing a program that in reality will only ruin your overall online experience in numerous ways. In addition to annoying activity, the adware program in question could also turn out to be the reason other dubious software might be able to enter your operating system without a lot of trouble. Make sure to follow the removal instructions that we present below to delete CouponThing from your system in its entirety once and for all.
As soon as CouponThing infiltrates your operating it will embed its intrusive files within the %PROGRAMFILES% and %APPDATA% folders as well as it will implement its devious registry entries all over your system. All of these bits of it will work closely together for this adware program to function in the way it does. Once you click on the desktop icon of this adware, which appears after it is installed on your PC, you will be redirected to a dubious third-party website, which will present various offers. While at first all those offers and deals might seem tempting, you must know that in reality they will only cause annoyance because you will in most cases be redirected to dubious sites with irrelevant advertisement or surveys on them. In some cases, the ad-supported program in question could present you with so much of devious web content that surfing the web might even become virtually impossible since you could be simply forced to stop all your online activities just to close each ad, pop-up or coupon. It goes without saying that such activity must be stopped if you wish to browse the web the way you are used to. The only way that you can end the dubious functionality of CouponThing is by executing its complete removal; every single bit of it should be removed because just a few traces could still be used for its intrusive operations.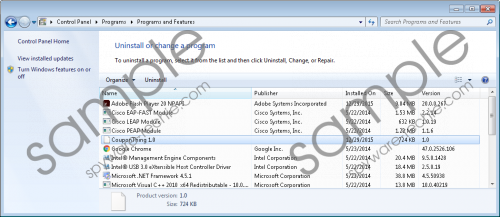 CouponThing screenshot
Scroll down for full removal instructions
While such activity should be a reason enough to get rid of CouponThing, you must know that there is something much more alarming about it than you might think at first. The adware program in question establishes numerous connections to various adware servers to present you with all that intrusive web content. The alarming thing about such connectivity is that during them a silent download could take place, and it is not too surprising that a potentially malicious program could be obtained as all those adware servers are infamous for being associated with malware distribution. Therefore, you must take appropriate measure to analyze your operating system for potentially dubious software that could have infiltrated your PC if you already have this adware on your computer. Such potentially harmful functionality should not be ignored as it could have devastating outcomes, to say the least; thus, this is the main reason we urge every Internet users that already has CouponThing active on their PC to remove it at the very same time that it is discovered up and running.
Do not hesitate and use the removal guide that we present below to delete CouponThing as it is your best bet to regain the standard functionality of your web browser. Do not take any chances and make sure to check your entire operating system for potential leftovers linked to CouponThing as just a few of its traces could be more than enough to trigger a silent restoration procedure. In other cases, the a few leftover files or registry entries could still be enough for this ad-supported program to fully function.
How to remove CouponThing from your PC
Windows 10
Right-click the Windows button.
Select Control Panel.
Click Uninstall a program.
Locate and select the unwanted program.
Click the Uninstall button.
Windows 8 and 8.1
Right-click your Task Bar.
Select Control Panel.
Click Uninstall a program.
Double-click the CouponThing.
Confirm that you want to remove it.
Windows 7
Tap the Windows key on your keyboard.
Select Control Panel and then click Uninstall a program.
Right-click the CouponThing.
Select the Uninstall option.
Windows XP
Click Start and select Control Panel.
Select Add or remove programs .
Select the undesirable program.
Click the Remove button.
In non-techie terms:
If you are a users that does not wish to mess around with the registry system yourself but wish to be sure that CouponThing has been removed from your PC, you should not worry. Malware experts at Spyware-Techie.com have created an alternative removal guide that we present below, which will help you delete every single bit of this devious adware in an automatic way.