Do you know what Coupon Clipster Ads is?
Coupon Clipster Ads are pop-up advertisements displayed by an adware application. The pop-ups appear when you browse online for various commercial goods. Coupon Clipster Ads are compatible with bestbuy.com, target.com and other similar online stores. Although this adware program is not trying to cause you any harm, you are strongly advised to remove Coupon Clipster Ads from your computer, as commercial ads may lead you to visiting potentially corrupted websites. It may happen, because the adware server used by Coupon Clipster Ads gets exploited by malevolent third parties to promote their content.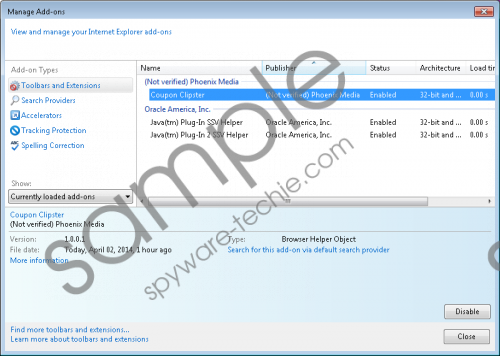 Coupon Clipster Ads screenshot
Scroll down for full removal instructions
Computer security experts suggest that Coupon Clipster Ads are displayed by Lyrics family type of adware, because it is created using Crossrider platform. The program is digitally signed by Phoenix Media and installs extensions on Internet Explorer and Mozilla Firefox only. However, in order to remove Coupon Clipster Ads, rather than removing add-ons from the browsers separately, you need to uninstall Coupon Clipster via Control Panel.
You might be wondering where Coupon Clipster Ads have come in the first place. Since they are generated by Coupon Clipster adware application, the logical conclusion would be that you have downloaded the program from its official homepage at couponclipster.com. However, it is highly unlikely that you have visited the website on purpose and downloaded the application. The truth is that Coupon Clipster is often bundled with various downloaders and freeware applications. For example, it is usually bundled within domalQ downloaders, and as a result it can be installed on your computer together with Conduit Search, Optimizer Pro, Mobogenie and other potentially unwanted applications.
Technically, Coupon Clipster Ads are supposed to compare prices within a large number of online shopping websites and then help you find goods for optimal prices. However, we can never know whether the information displayed by Coupon Clipster Ads is reliable. It is true that Coupon Clipster makes use of various advertising servers to generate the ads content, but such programs seldom check the reliability of their sources.
Thus, if you do not want to get involved in a suspicious online marketing scheme or get infected with malware (although that would be an extreme case in this situation), we strongly recommend that you remove Coupon Clipster Ads and other freeware applications from your computer right now. Follow the manual removal instructions below to uninstall Coupon Clipster via Control Panel and then scan your system with reliable antimalware tool to get rid of any other system threats. Do all it takes to protect your PC from harm.
Remove Coupon Clipster Ads
Windows 8
Move mouse to the bottom right of your screen.
Click Settings on Charm bar and select Control Panel.
Select Uninstall a program and remove Coupon Clipster.
Windows Vista & Windows 7
Click Start menu button and select Control Panel.
Open Uninstall a program and remove Coupon Clipster.
Windows XP
Open Start menu and navigate to Control Panel.
Select Add or remove programs and uninstall Coupon Clipster.
In non-techie terms:
Coupon Clipster Ads will be displayed on your browser window as pop-ups by Coupon Clipster program. These ads may redirect you to third party websites to increase their traffic or make you participate in various online marketing queries. To avoid these annoying occurrences, remove Coupon Clipster Ads from the system at once.