Do you know what CommonShare is?
CommonShare is a free browser add-on aimed at enhancing your experience on the Internet by flooding you with pop-ups, web banners, coupons, in-line advertisements, etc. The program is owned and maintained by the notorious software developer SuperWeb LLC, which owns a great variety of identical programs, the vast majority of which are promoted on separate websites. CommonShare also has its website, which is commonshare.net. However, the fact that the program is presented on a special website does not mean that it cannot be promoted by other websites. SuperWeb programs are bundled with other programs, too, and it is advisable pay close attention to attention to every installation process if you do not want to deal with questionable programs. CommonShare is categorized as adware because it displays third-party ads, and, if you want to stop CommonShare ads, remove the browser add-on immediately.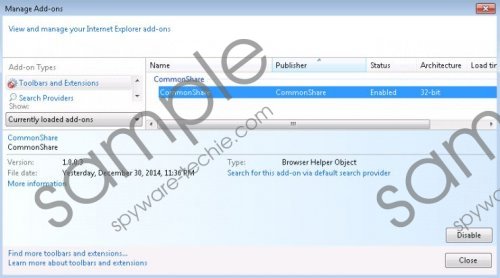 CommonShare screenshot
Scroll down for full removal instructions
SuperWeb programs used to be compatible with the three most popular browsers – Internet Explorer, Google Chrome, and Mozilla Firefox. However, the CommonShare program is compatible only with Internet Explore and Mozilla Firefox. Upon installation, the program starts monitoring the user's actions on the Internet so that the developers of the program and/or third parties can draw some conclusions about the user and make some changes if necessary. The program is programmed to record clicks, impressions, search terms, browsing history, browser time, default language, and some other non-personally identifiable information. SuperWeb does not seek to reveal your identity, but, if you use your phone number, emails address, or name as you search terms, this information can be easily recorded by SuperWeb.
Another reason why you should remove CommonShare from the computer is the fact that CommonShare is not associated with the websites advertised. You use the program at your own risk because the developers of the program do not accept responsibility for the activities of third parties. Among the coupons offering you to by various products at discounts, you can encounter suspect pop-ups inviting to scan the computer or take part in a survey. Ignore such advertisements, because they may be aimed at deceiving you, and remove CommonShare from the computer.
As regards the removal of the adware program, our team recommends that you implement SpyHunter. This program can easily remove CommonShare from your PC and provided you with real-time protection against malware and spyware. It is possible to remove CommonShare manually, i.e. by uninstalling the program, which you can do using the following instructions, but we recommend that you rely on a reputable security program.
How to remove CommonShare
Windows Vista and Windows 7
Click Start.
Select Control Panel.
Click Uninstall a program.
Remove CommonShare.
Windows 8
Move the mouse pointer to the lower-left corner of the screen.
Right-click and select Control Panel.
Click Uninstall a program and remove CommonShare.
Windows XP
Open the Start menu.
Click Control Panel.
Select the Add or Remove Programs option.
Uninstall the CommonShare program.
In non-techie terms:
CommonShare is an adware program, and we recommend that you eliminate it from the computer. In order to have it terminated, use our recommended security program. In case you do not know how to install the recommended security program, use the following instructions. Our team is ready to help you with the removal of CommonShare or installation of the scanner, so feel free to contact us if need be.