Do you know what Combo Search is?
Combo Search is an extension that is compatible with Google Chrome. This extension is officially promoted via combo-search.com, or you can install it at chrome.google.com/webstore/detail/combo-search/aacjmcdmclhpdpjagjcmclecpgjodlmg. When installing this extension, you might be informed that it can read/modify the data on those websites that you visit, as well as modify your search settings. Of course, you might have figured out that the search settings would be adjusted, considering the name of this extension. Were you surprised by these modifications? In either case, are you happy with them? If you are not, there is no reason to postpone the removal of Combo Search. If you think that the suspicious search tool is harmless, think again. Although you might be able to use it risk-free, it is very easy to put yourself in danger as long as this potentially unwanted program is active.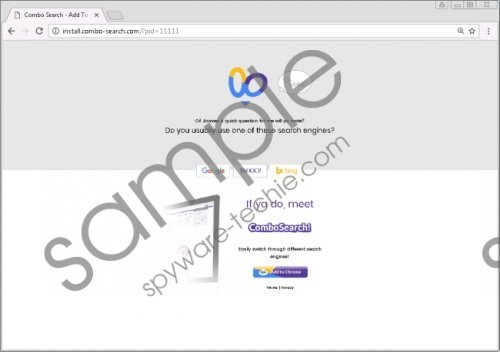 Combo Search screenshot
Scroll down for full removal instructions
We classify Combo Search as a potentially unwanted program (PUP) because it is not as beneficial as you might believe it to be at first, and it does not work in the most reliable manner. According to our malware research team, it is possible that this PUP will hijack your New Tab page on Google Chrome when you install it by setting splintersearch.com as the new tab. This page represents a search engine that appears to have been created by Snap.do, and, as you might know, it does not have the best reputation. Another thing that disconcerts us is that this search engine displays ads. Sure, they could be harmless, but how can you be sure about that? There is always a possibility that unreliable ads will be introduced to you, especially when they are delivered by a suspicious search provider. Luckily, it is unlikely that Combo Search users will have to worry about deleting splintersearch.com.
The suspicious Combo Search might travel on its own, and you are likely to face it alone if you use the official installer or Chrome web store. However, it is possible that this browser hijacker will be introduced to you by malicious installers that could be found on malicious file-sharing sites or that could be introduced to you by other malicious infections, such as adware. If other threats slither in along with the PUP, you might face bigger problems. We encourage you to inspect your operating system using a legitimate malware scanner to make sure that malware does not exist. If it does, remove it immediately. Should you delete Combo Search along with this malware? Considering that this "search tool" does not offer the most useful services and that it can record information that is then shared with third-party advertisers, we believe that you will not lose anything by removing this PUP.
Combo Search is operated via an extension, and you can remove it from your Extensions manager directly via the Chrome browser. It is very easy to eliminate this extension, and so you should not worry even if you have never deleted any extensions before. Of course, you should scan your PC first to check if other threats exist. If malware is found, you should attend to it before the PUP. Needless to say, the best thing for you would be to install an automated malware detection and removal app to have all threats eliminated at the same time. If you are having any problems with the elimination of the PUP or other active threats, please start a conversation in the comments section so that we could help you.
Remove Combo Search from Chrome
Launch the browser and tap keys Alt+F.
In the menu on the right navigate to More tools.
Click Extensions to open a menu listing all installed extensions.
Click the recycle bin next to Combo Search.
Select Remove the get rid of this undesirable add-on.
Run a malware scanner to check for leftovers and other threats.
In non-techie terms:
Although Combo Search might seem like a great tool, it is not all that great. Its services are replaceable, and we certainly recommend setting up a more reliable search tool that will not spy on you and share information about you to unknown parties. The removal of this extension is very simple, and you can use the guide above to learn how to delete Combo Search from Chrome manually. If you have faced much bigger threats, you do not need to waste your time eliminating every single one of them yourself. Instead, download an anti-malware tool that will erase malicious threats and PUPs automatically.