Do you know what Com Notification is?
Com Notification is yet another potentially unwanted program that has been circulating on the web lately. Due to the hoax marketing slogans on the official Com Notification website, numerous unsuspecting users are lured into installing this useless program onto their systems. Com Notification has been dubbed a potentially unwanted program because of its questionable functionality. If you have found this suspicious program running on your operating system, malware experts at Spyware-Techie.com advise you to remove it, as it is rather useless. We have crafted a detailed removal guide that will help you delete Com Notification from your operating system once and for all. Read this article and find out why exactly we think that Com Notification should not be on your PC.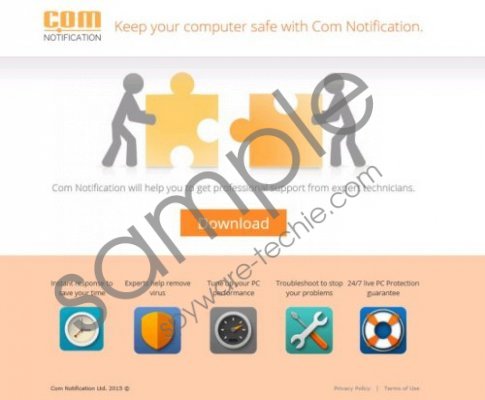 Com Notification screenshot
Scroll down for full removal instructions
Our reports show that quite a few users that have this potentially unwanted program have not consciously installed it. This is because even though it is possible to download Com Notification from its official website this program is most often distributed via software bundles. Ending up with Com Notification is not the worst case scenario: Bundled installers often carry actual Internet-based infections within them. This is the reason you should download your software from official websites only. Additionally, you should pay as much attention as possible while installing any kind of software on your PC, as you could be offered an opportunity to cancel unwanted setup steps. Finally, your best bet to protect your PC from any unwanted or malicious applications is by installing a professional malware detection and removal program, which offers all-around security of your computer at all times.
Once Com Notification gains access to your operating system, it will start running suspicious processes in the background. Even though Com Notification is advertised as a useful tool that should enhance your computer's overall performance, you must know that it does not do this at all, as you will find no actual improvement of your PC whatsoever. Due to the fact that this program never appears onscreen, quite a few users might not even be aware that it is running on their PCs. If you suspect that Com Notification is active on your system, please check your file and registry system. If you find Com Notification, do not hesitate to remove it.
The removal procedure is not that complicated because it is possible to delete Com Notification via Control Panel. Once the removal is finalized, all the questionable processes will stop, but some traces of it could still be present on your computer. Conduct an in-depth analysis of your PC in order to get rid of them.
How to remove Com Notification
How to remove Com Notification from Windows Vista and Windows 7
Tap the Windows key on your keyboard.
Select Control Panel.
Click the Uninstall a program option.
Select Com Notification and click Uninstall.
How to remove Com Notification from Windows XP
Click Start.
Select Control Panel.
Click Add or Remove Programs.
Uninstall the unwanted application.
How to remove Com Notification from Windows 8
Move the mouse pointer to the lower-left corner of the screen.
Right-click and select Control Panel.
Click Uninstall a program.
Double-click Com Notification to remove it.
In non-techie terms:
Some users might not be comfortable enough to check their operating systems for potential leftovers manually. This is why we have alternative instructions below. If you are one of those users, please follow these alternative instructions in order to get rid of Com Notification entirely.