Do you know what Cloudscout Ads are?
Cloudscout Ads are commercial advertisements that interrupt your web browsing experience when you have the Coudscout adware application installed on your computer. In order to remove Cloudscout Ads from your browser, you need to terminate the application first. You should be able to uninstall this application via Control Panel, but for a full system protect you should get yourself a licensed antispyware tool that will ensure you will not longer be bothered by the likes of Cloudscout Ads again. Read on this article to find out more about potentially unwanted applications.
Our research team says that Cloudscout Ads can be linked to CloudGuard potentially unwanted program, as both CloudGuard and Cloudscout are practically identical. These applications supposedly offer protection from malware and various phishing attacks you might encounter while you browse the Internet. What's more, Cloudscout is supposed to provide you with parental control, allowing you to block specific websites so that your child would not be able to enter them. Nevertheless, the functionality of this application is highly doubtful especially as it clearly displays Cloudscout Ads and other potentially corrupted third-party content.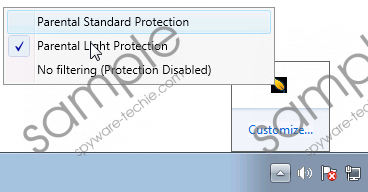 Cloudscout Ads screenshot
Scroll down for full removal instructions
If you take a look at cloudguard.me, you will notice that the official website does not have a download link. It only offers you to contact the people behind Cloudscout Ads for a full subscription. However, there are a lot of users who suffer from Cloudscout Ads even though they have never sent a single email to the program's developers. The thing is that this adware application and a number of other similar programs manage to enter target systems in software bundles. It means that users download and install Cloudscout and other programs themselves without even realizing it. Hence, if you must install some new application, do make sure that you download it from the official vendor's website. Download programs from third-party distribution sources eventually leads to adware infections once should avoid.
Cloudscout Ads will display third-party content that is in no way related to the actual program. This presents specific security issues, especially considering the fact that such applications are highly vulnerable to third-party exploitation, and if cyber criminals decide to make use of Cloudscout Ads, you might as well click a link that initiate malware download or leads you to a corrupted website.
Avoid these potential security issues by removing Cloudscout Ads today. Uninstall the application manually and then run a full system scan with a computer security application of your choice. You also need to terminate other unwanted applications that are bound to be installed on your computer, so restoring to an automated spyware removal tool would be your best bet.
How to Remove Cloudscout Ads
Windows 8 & Windows 8.1
Move the mouse cursor to the bottom right of your screen.
Click Settings on the Charm bar and go to Control Panel.
Open Uninstall a program and remove Cloudscout.
Windows Vista & Windows 7
Open the Start menu and click Control Panel.
Select Uninstall a program and remove Cloudscout.
Windows XP
Press the Windows key and select Control Panel.
Double-click Add or remove programs and uninstall Cloudscout.
In non-techie terms:
The presence of Cloudscout Ads on your web browser means that you have at least several unwanted applications on-board because adware apps seldom get distributed individually. You have to remove Cloudscout from your system to get rid of the annoying ads, and then go through a full system scan to detect and terminate other unreliable applications, that might be associated with computer security threats.