Do you know what Clean Browse is?
Many gullible users download and install Clean Browse on their systems because they think that this program can help them to prevent malware from entering their systems. The program on its official website says that it will definitely alert a user if a web page that he/she is about to visit contains malicious software. Even though this function seems useful, you should be aware of the fact that Clean Browse is known to be an advertising-supported application. In other words, this program injects advertisements into different web pages. There is no doubt that you will see those advertisements if you use Internet Explorer, Google Chrome, or Mozilla Firefox. Luckily, you can eliminate all those intrusive ads by erasing Clean Browse from the system. We are ready to help you do that.
We do not think that it is worth keeping Clean Browse installed on the system because it might provide you with ads that can take you to untrustworthy websites. These ads might appear in all kinds of forms, including pop-ups, coupons, shopping suggestions, and video-targeted ads. The research has also shown that Clean Browse tracks users' Internet browsing activity and thus records various details including search queries, the web pages they visit, IP address, approximate location, and the like. Finally, this advertising-supported application might connect to the Internet. It is unclear why it needs to do that, but we think that it shares all the collected details with third-party advertisers. We do not think that you like this. Thus, we have decided to inform you how to delete Clean Browse easily and quickly. More information about the removal of this program can be found in the last paragraph.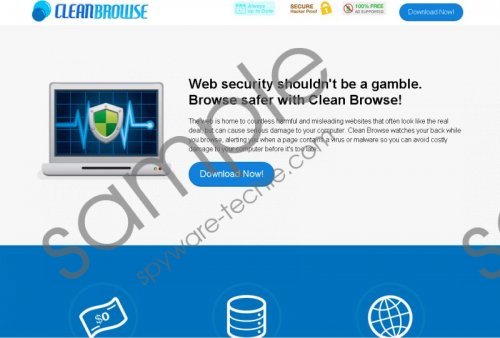 Clean Browse screenshot
Scroll down for full removal instructions
It does not seem that you have downloaded and installed Clean Browse yourself because this program cannot be downloaded from its official website. In fact, even the Download button is not working there. After a users clicks on it, a message saying that the "extension is down for maintenance and currently unavailable" appears. Of course, there is a possibility that it is promoted on some kind of third-party website, but it is more likely that this advertising-supported application comes bundled with other programs. On top of that, it is very likely that you have agreed with the installation of Clean Browse yourself, but simply do not know that.
Do not worry; you can erase Clean Browse rather easily. We have prepared the manual removal instructions in order to do that. Unfortunately, it might not be very easy to erase other programs that have entered your system together with Clean Browse manually. Therefore, we suggest scanning the system with an antimalware scanner after the manual deletion of Clean Browse. Of course, you can erase Clean Browse automatically too. In such a case, all the existing threats will be deleted at once and you will not need to scan your system again.
How to delete Clean Browse
Windows XP
Click on the Start button and select Control Panel.
Click Add or Remove Programs.
Select the program and click Remove.
Windows 7 and Vista
Open the Start menu.
Select Control Panel.
Click Uninstall a program.
Right-click on Clean Browse and click Uninstall.
Windows 8
Right-click on the bottom-left corner and select Control Panel from the menu.
Click Uninstall a program.
Right-click on the application and click Uninstall.
Windows 10
Tap the Windows key + X and then select Programs and Features.
Locate the program that you want to erase and select it.
Click Uninstall.
In non-techie terms:
In order not to allow similar programs to slither onto your computer in the future, you have to install a security tool on your system. It has to be 100% trustworthy. If you do not know which tool to install on your computer, we recommend investing in SpyHunter. After the installation of this tool, you will not detect malware ever again.