Do you know what Chromatic Browser is?
Today, there is no shortage of browser imitators trying to pass on as somewhat more enhanced and error-free versions of the original. Chromatic Browser is one such program that you should remove, because it is a cheap rip off of Google Chrome, one of the best web browsers used in every corner of the globe. Yet for some reason the developers think users should go in favor of Chromatic Browser. While, we at Spyware-techie.com recommend that you use your old browser, whichever it might be.
Chromatic Browser has a promotional website, but during testing we found that it cannot be downloaded from it. If you click the download button a "Coming soon!" message appears. However, the browser can be downloaded from other sources. It comes bundled with malicious software , such as MySafeProxy, SpeedChecker, and a few others. It must also be said that Chromatic Browser is very similar to BoBrowser and CrossBrowser. The developer of Chromatic Browser is a mystery as the browser's information section refers to the developers as Chromatic Authors. The browser itself is based on the Chromium open source project and other open source software. It actually looks the same as Google Chrome. So why not remove this mysterious browser and use Google Chrome instead? After all there is no substitute for the real thing.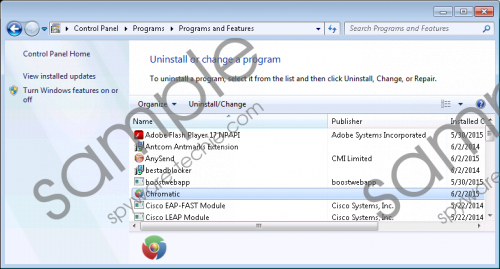 Chromatic Browser screenshot
Scroll down for full removal instructions
The strange thing about this browser is that it is supposed to be a better alternative to Chrome without its shortcomings. But it is actually based on the browser that the developers deem flawed in terms of privacy. And the website Chromatic.rocks is full of contradictions. In one instance claiming that Chrome is secure. Apart from the shortcut color scheme you could not tell Chromatic from Chrome apart. After installation the browsing history is copied from Chrome to Chromatic. The browser uses Re.search-webresults.com as its default search engine, but it redirects you to Search.yahoo.com when you search from something.
All in all, we are of the opinion that Chromatic Browser is not an alternative to Chrome. It is unreliable, since there is not information about its developers, and it comes bundled with malicious software. Its search engine is also unreliable since the Search.yahoo.com has been modified. Therefore, we recommend that you remove Chromatic Browser and use Chrome instead, since the problems that plague Chrome will surely be found on Chromatic as well.
Remove Chromatic Browser from your computer
Windows 8 and 8.1
Open the Charm bar.
Click Search, type uninstall program and open it.
Find Chromatic Browser, and right-click on it.
Click Uninstall.
Windows 7 and Vista
Open the Start menu.
Select Control Panel, and go to Uninstall a program.
Find Chromatic Browser, and right-click on it.
Click Uninstall.
Windows XP
Click Start, go to the Control Panel.
Open Add or remove programs.
Find Chromatic Browser, and click Remove.
In non-techie terms:
Chromatic Browser is a potentially unwanted program that you can remove without any hesitation. It is based on the Chromium open source project. It is claimed that Chromatic Browser is a better alternative to Google Chrome, but the developers of this "gem" remain a mystery. Furthermore, Chromatic Browser comes bundled with malicious programs, so we do not recommend installing or using this browser.