Do you know what Cheetasearch.com is?
Have you downloaded Cheetasearch.com yourself or has it taken over your browsers without your permission? Whatever the case, our research team recommends removing this browser hijacker from your web browsers. At this moment, it is compatible only with the most popular browsers, including Google Chrome, Internet Explorer, and Mozilla Firefox, but other browsers could be targeted in the future. Once it gains access to your browsers, this hijacker can change homepage and default search provider tools. Even if that is done with your permission, it is most likely that you will be forced into accepting the changes, and this is why we categorize the search tool as a browser hijacker. The thing is that most users do not even want to install the hijacker, and it is most likely to be bundled together with an attractive extension. We suggest getting rid of this extension as well, and this might be the easiest way to delete Cheetasearch.com itself.
The extension that represents Cheetasearch.com is currently unknown. According to our research, it is possible that this extension has not been released yet. If you go to the homepage of the hijacker and scroll down, you will see a tag indicating that the hijacker is associated with an extension by Imali Media, but the area where the name of the extension should be is empty. Needless to say, it is likely that the hijacker will be updated as soon as the extension is released. Right now, it is floating around the web aimlessly, but that does not mean that the hijacker is not being spread already. Although it is likely that it will be bundled with the add-on, it might be spread via installers promoted with the help of pop-ups. If these pop-ups keep appearing, adware might have been installed on your PC, and we recommend deleting it ASAP. Obviously, our main focus, at this point, is the hijacker.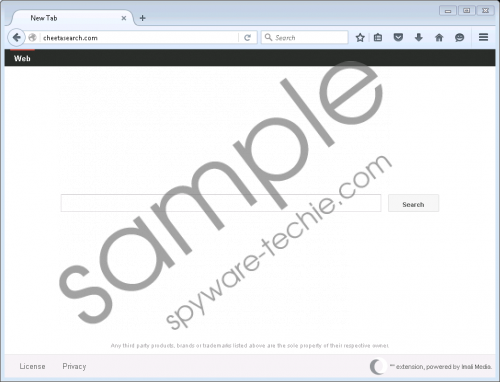 Cheetasearch.com screenshot
Scroll down for full removal instructions
Cheetasearch.com is most likely to be introduced to you as Search.cheetasearch.com, and it is very similar to Search.socialnewpagessearch.com, Search.funtvtabplussearch.com, and many other web hijackers that come from the same group. Although these search engines look harmless, and the quick-access links they show are legitimate, they do not work as search tools. Their only function – when it comes to web searching – is to redirect you via search.safefinder.com to search.yahoo.com. If you use Yahoo Search on a daily basis, you will be familiar with the engine you are redirected to, and the search results will seem harmless. Even though it is possible that you will encounter only legitimate links, our research team warns that sponsored links (aka, ads) could be injected as well. Obviously, we do not recommend interacting with these links because we do not know the intentions of the parties representing them. Imali Media is likely to earn money by setting up a pay-per-click system, and it is impossible to say whether or not the company screens the content it shows, or if it cares about that at all.
If we have convinced you that Cheetasearch.com is not a reliable search provider, we are sure that you want to remove it as soon as possible. The instructions below show how to delete unwanted extensions and replace unwanted search tools. If the hijacker takes over Internet Explorer, you might also need to uninstall an app. Once you finish erasing the unwanted software, you should check for leftovers using a reliable malware scanner that could also identify additional threats if they have entered your PC as well. A shortcut for all that would be using anti-malware tools capable of deleting all threats automatically and preventing them from attacking in the future.
Remove Cheetasearch.com
Windows 10 and Windows 8
Launch RUN (simultaneously tap Win+R keys on the keyboard).
Enter Control Panel and click OK to open a menu.
Move to the Uninstall a program menu and Uninstall the unwanted app.
Windows 7 and Windows Vista
Click the Windows logo on the Taskbar and open Control Panel.
Select Uninstall a program and find the undesirable application.
Right-click this undesirable application and click Uninstall.
Windows XP
Click the Start menu icon on the left of the Taskbar.
Open Control Panel and then double-click Add or Remove Programs.
Select the undesirable program and click Remove.
Mozilla Firefox
Open the browser, tap Alt+T, and choose Add-ons.
In the Extensions menu Remove the unwanted add-on.
Tap Alt+T again and select Options.
In the General menu overwrite the unwanted Home Page URL.
In the Search menu set the desired provider and Remove the unwanted one.
Internet Explorer
Open the browser, tap Alt+T, and select Manage Add-ons.
In the Toolbars and Extensions menu Disable the unwanted add-on.
Move to the Search Providers menu and set the desired provider.
Remove the undesirable provider and click Close.
Tap Alt+T again and select Internet options.
Click the General tab and overwrite the unwanted Home Page URL. Click OK.
Google Chrome
Open the browser, tap Alt+T, and select More tools.
Click Extensions to open a menu and then click the recycle bin linked to the unwanted add-on.
Select Remove and then move to the Settings menu (click Settings on the left).
Go to On Startup, select Open a specific page or set of pages, and click Set pages.
Overwrite the unwanted URL and click OK.
Navigate to the Search menu, click Manage search engines, and set the desired search provider.
Click X on the URL representing the unwanted provider to get rid of it and then click Done.
In non-techie terms:
We recommend deleting Cheetasearch.com because this is a browser hijacker that cannot offer you beneficial services. Sure, this hijacker can display search results corresponding to your search queries, but only after redirecting you to a search engine that, by the way, can be exploited to showcase modified results. Overall, we do not think that there is a single reason to keep this hijacker installed, and so we suggest getting rid of it right away. The manual removal guide above shows how to uninstall the app/delete the extension potentially associated with the hijacker. If that is not enough to get rid of the hijacker, additional steps will also help you replace unwanted search tools. You should also consider implementing automated anti-malware software!