Do you know what Celebrity Alert Ads are?
Celebrity Alert Ads appear on your browser when you have an adware program installed on your computer. The adware program in question is called Celebrity Alert. This application is supposed to provide you with the latest news on the hottest celebrity gossip, but, just like most freeware applications, Celebrity Alert supports third-party commercial ads. Consequently, this makes Celebrity Alert a potentially unwanted application because it may inadvertently expose unsuspecting users to potentially corrupted content. Hence, to remove Celebrity Alert Ads from your computer, you first need to terminate the Celebrity Alert adware application.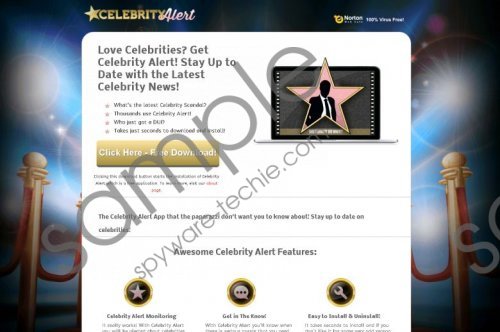 Celebrity Alert Ads screenshot
Scroll down for full removal instructions
Celebrity Alert functions like a browser extension and is compatible with Mozilla Firefox, Google Chrome, and Internet Explorer web browsers. It is very likely that users have no idea where Celebrity Alert Ads came from because they did not notice how this adware application entered their computers. This is a very common scenario because adware programs generally get distributed bundled with freeware. Even if Celebrity Alert has its own official homepage, it is very unlikely that computer users download this application directly. Since users often complain about Celebrity Alert Ads, we can assume that this application travels with a list of similar applications.
Despite the fact that Celebrity Alert may indeed let you know about the latest celebrity gossip, this program needs to support itself somehow, and it does that by displaying commercial ads. Celebrity Alert Ads often are related to your most recent web searches because adware applications collect information on your web browsing habits. If Celebrity Alert Ads are related to your likes and preferences, there is a bigger chance that you will click them. Consequently, clicking any of the Celebrity Alert Ad leads to an affiliated website, and you help them make money by generating user traffic.
It is not an illegal activity, but you have to take into consideration the fact that Celebrity Alert Ads might get exploited by a malevolent third party. After all, adware programs like Celebrity Alert do not check whether the content embedded in their ads is reliable. Such applications often state that third-party content is not subject to their privacy policy. Therefore, your computer security is in your own hands, and you can protect your system from potential threats by terminating Celebrity Alert Ads immediately.
Follow the instructions below to uninstall unwanted programs and restore your browser settings to their default values. Afterwards, scan your computer with the SpyHunter free scanner because you have to check for other potentially unwanted applications. Your computer security should be your utmost priority.
How to remove unwanted programs
Windows 8
Move the mouse cursor to the bottom right of the screen.
Click Settings on the Charm bar and go to Control Panel.
Select Uninstall a program and remove unwanted applications.
Windows Vista & Windows 7
Click the Start menu and go to Control panel.
Open Uninstall a program and remove adware programs.
Windows XP
Open the Start menu and click Control panel.
Select Add or remove programs and uninstall adware applications.
How to restore browser settings
Internet Explorer
Press Alt+T and click Internet options.
Open the Advanced tab and click Reset.
Select the Delete personal settings option and press Reset.
Click Close.
Mozilla Firefox
Press Alt+H and click Troubleshooting information.
Click Reset Firefox at the top right corner of a new tab.
Click Reset Firefox on a pop-up box.
Press Finish.
Google Chrome
Press Alt+F and click Settings.
Scroll down and click Show advanced settings.
Scroll to the bottom and select Reset browser settings.
Click Reset on a confirmation box.
In non-techie terms:
Celebrity Alert Ads may contain potentially harmful content, so you must terminate the Celebrity Alert adware application at once. For an alternative unwanted software removal method, please refer to the secondary set of instructions below this description.