Do you know what CantMissCoupons is?
If you are all about saving money, CantMissCoupons might seem like a great tool. This program should produce coupons and discounts whenever you shop online, but our researchers have found that it is more unreliable than you think. First of all, this program can introduce you to irritating, unpredictable pop-ups and interstitial ads even when you are not visiting online shopping sites. At first, this service might be attractive, but, sooner or later, you will get tired of it. Needless to say, CantMissCoupons is an advertisement-supported program. What we do not now is whether or not it is one of those malicious ad-supported programs that require removal. Continue reading, and you will find out if you need to delete CantMissCoupons.
Are you familiar with BrowserShield, Majestic Coupons, or Price-Slayer? Even though these programs appear to be different, in reality, they are identical to CantMissCoupons. Our research team believes that these programs were created using the same platform, and there is a risk that it could be employed by malicious parties. If they created adware, they could use it to introduce users to phishing scams, bogus installers, fake surveys, links to unreliable sites, or worthless shopping deals. The bottom line is: It is unlikely that the deals promoted by CantMissCoupons will be the best ones on the web, even if they are authentic. If you really want to save money, you have to research discounts yourself, or you need to trust reliable shopping assistants. Of course, before that, you need to remove CantMissCoupons.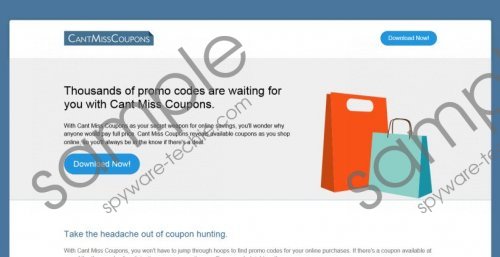 CantMissCoupons screenshot
Scroll down for full removal instructions
Unfortunately, it is unlikely that CantMissCoupons is the only unreliable program active on your operating system. According to our research, this program travels bundled with third-party programs, which is what was expected, considering that cantmisscoupons.com does not offer a working installer. We do not know what kind of software could come packaged with CantMissCoupons in every case, which is why it is important to prepare for the worst. If you inspect your operating system – which you can do using a legitimate scanner – and discover Trojans, rogue malware removers, personal data collecting tracking cookies, and other infections, delete them first. Although CantMissCoupons can show misleading ads, it itself cannot do much harm, which is why we believe that its removal can wait for a little bit.
If you postpone the removal of CantMissCoupons altogether, this program could collect information about your activity, and enable unfamiliar third-parties to target you with more attractive offers. Unfortunately, it is unlikely that this will work to your advantage. Although we know that most users will choose to delete CantMissCoupons manually, we encourage users to install security software to protect their Windows systems and delete any active threats. Start a discussion below if you need our advice or you have any questions.
Delete CantMissCoupons from browsers
Delete from Google Chrome
Tap Alt+F, select More tools (Tools), and click Extensions.
Click the recycle bin and select Remove.
Delete from Internet Explorer
Tap Alt+T, select Manage Add-ons, and click Toolbars and Extensions.
Disable the unwanted add-on and click Close.
Delete from Mozilla Firefox
Tap Alt+T, select Add-ons, and click Extensions.
Remove/Disable the unreliable add-on.
In non-techie terms:
CantMissCoupons should make it impossible for you to miss beneficial shopping deals. Unfortunately, this program is not very reliable or beneficial, and it is unlikely that it will introduce you to any reliable offers. This ad-supported program was created to promote the services of undisclosed partners, and it is possible that these partners will be schemers in disguise. Hopefully, you will delete CantMissCoupons before it jeopardizes your virtual security. Follow the manual removal guide to eliminate the browser extension, and install a security tool to remove any leftovers.