Do you know what Canopus is?
Canopus is an advertising-supported application that starts showing commercial advertisements on a user's screen the moment it enters the system. Unfortunately, many people download this program on their systems because they think that it will really help them to get the most out of their online shopping experience, as Canopus promises to on its official website canopus.orgfrree.com. Canopus will bombard your screen with various advertisements day after day, and it does not matter at all which browser you use for surfing the Internet. You should get rid of Canopus as soon as you can in order to stop these annoying ads from appearing on your screen. Unfortunately, this will not be so easy to do because this adware program cannot be removed via Control Panel. Actually, the manual removal of Canopus will not be easy; however, if you still want to do that yourself, you should continue reading this article.
This advertising-supported application shows coupons and other kinds of advertisements. They will have a tag "Ads by Canopus," so you will be able to recognize them. Canopus does not install extensions to browsers in order to display advertisements like other adware programs. Specialists have noticed that it changes the DNS settings in order to do that. This simply means that it will be extremely hard to stop those advertisements from appearing. We know that these ads might seem to be decent at first sight; however, for the sake of your system's safety, you should not click on any of them. It is not advisable to do that because you might be redirected to other untrustworthy web pages. It is advisable to get rid of Canopus not only because this undesirable program shows ads that might redirect to suspicious web pages, but also because it might collect information about your web browsing activities. If you do not want to reveal anything about yourself, delete this program as soon as possible.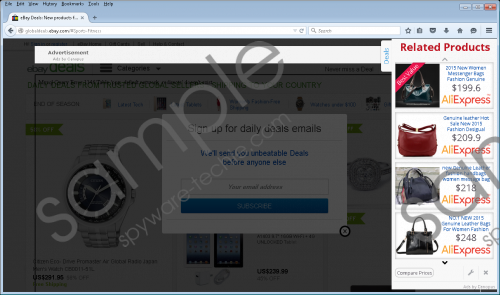 Canopus screenshot
Scroll down for full removal instructions
Specialists have just tested the Canopus advertising-supported application and noticed that it usually enters systems in bundles with other programs. Unfortunately, it means that you might have allowed it to enter your system yourself. We highly recommend installing a security tool on your system if you tend to surf the Internet on a daily basis. You should also install new programs very carefully because you might install a bunch of programs which could cause harm to your system alongside if you are not careful.
As we have mentioned, Canopus cannot be removed via Control Panel. We cannot say that it is impossible to remove it manually; however, you will find out within seconds that it is really hard to do that. Do not worry; we will not leave you in trouble.
Delete Canopus
Tap the Windows key + R.
Enter cmd in the box and click OK.
Type in netsh winsoc reset next to C:\Windows\system32 and tap Enter.
In the new line, write sfc /scanfile=C:\Windows\system32\dnsapi.dl and tap the Enter button again.
Enter sfc /scanfile=C:\Windows\syswow64\dnsapi.dll below.
Tap Enter on your keyboard.
In non-techie terms:
If the manual method is too difficult for you, or you still see advertisements on your screen after you get rid of Canopus manually, you have to scan your system with the SpyHunter antimalware scanner. Actually, it would be clever to do that even if you do not see the Canopus on your system anymore because your system might still contain other undesirable programs. They might perform activities behind your back.