Do you know what BuzzSurfing is?
Have you discovered the lyrics presented by BuzzSurfing? In this case it is most likely that you will find the extension installed onto your Internet Explorer, Mozilla Firefox and Google Chrome browsers. Even though the plugin is not considered to be malicious, it might enter your operating system bundled with other applications. Therefore, we strongly recommend that you beware of any unauthorized installations or undesirable additional downloads. If you are not allowed to decline the additionally presented plugins and applications when installing software onto the PC, we advise terminating the installation altogether because this might lead to the activation of undesirable or even malicious programs. Fortunately, you can delete BuzzSurfing from the system even if it has been installed illegally.
BuzzSurfing is represented at buzzsurfing.co; however, the website presents an inactive download link. As mentioned before, the program could be installed onto the PC alongside other applications and browser extensions. The same goes with other Lyrics family plugins, including ElectroLyrics or ULyrics. Our malware researchers have discovered that the latter application is presented at ulyrics.com, and this web page is almost identical to buzzsurfing.co. It is quite possible that both of these programs have been developed by the same people, which is quite suspicious. Why would anybody create two identical programs? Even though it is suggested that the main purpose of these programs is to present lyrics, our malware researchers warn that both programs can enable online advertisements presented by third parties.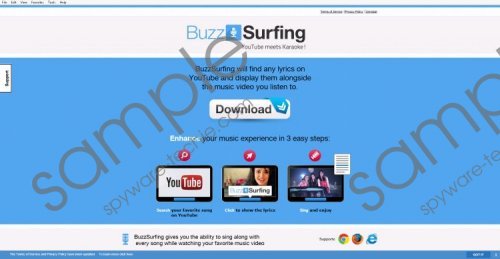 BuzzSurfing screenshot
Scroll down for full removal instructions
Do you want to face commercial advertisements every time you browse the web? We certainly do not advise allowing third parties to flood your browsers with suspicious ads, and so BuzzSurfing removal is strongly recommended. If you wish, you can use the instructions below to delete the undesirable plugin manually. Note that even though the instructions show how to remove the application from the PC, this will be enough to get rid of the undesirable extension from the browsers as well. Of course, we advise installing automatic malware removal software because, besides getting all undesirable and potentially dangerous programs deleted from the PC, it will also help you safeguard the operating system.
BuzzSurfing Removal
Remove from Windows 8:
Right-click on the Metro UI menu, select All apps and click Control Panel.
Go to Uninstall a program, locate the undesirable program, right-click it and select Uninstall.
Remove from Windows Vista/ Windows 7:
Open the Start menu from the Task Bar, click Control Panel and then Uninstall a program.
Right-click the application you wish to delete from the PC and select Uninstall.
Remove from Windows XP:
Navigate to the Task Bar, click the Start button on the left and select Control Panel.
Double-click Add or Remove Programs, select the undesirable application and click Remove.
In non-techie terms:
BuzzSurfing is an advertisement supported program which has been discovered to enable online adverts, pop-up deals, prize giveaways and other suspicious offers. Even if some of these advertisements are authentic, you need to be cautious about those which may hide links to unreliable websites. To ensure that your browsers are not affected by adware in the future, we recommend that you delete BuzzSurfing and install authentic Windows security software.
Aliases: BuzzSurfing virus.