Do you know what Buzzing Dhol is?
Buzzing Dhol is a questionable application that may show up on your computer with a company of malware infections. Our researchers say that this is not a severe infection, but they have found some traits with regard to the operation of this program that has put it into the potentially unwanted program (PUP) category. We believe that most computer users have at least one such application on their systems, and most of the time they do not even know about it. The reason behind it is that most of these PUPs enter computers in freeware bundles. This means that they may not even be the target application that the user wants to download and install; these PUPs are simply part of a package. If you are not careful enough, you may easily let this useless program and a couple of malware threats onto your computer. According to our researchers, this PUP did not show any malicious behavior while it was tested, but it did not function as promised either. Therefore, we believe that you should delete Buzzing Dhol from your PC because you should not keep an application on your system that has infiltrated it in a questionable way.
This application is a local event viewer and this service is also available on the net, through the official site, buzzingdhol.com. From this site you can only download the mobile app and there seems to be no mention of a PC application either. We cannot say anything bad about this site or the service because it seems to be working just fine. However, if you cannot download this PC application from its promotional site, it is quite possible that there has to be other ways for it to spread on the net. According to our researchers, this PUP can sneak onto your computer in two main ways.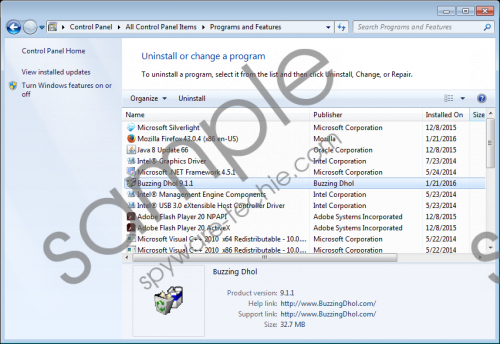 Buzzing Dhol screenshot
Scroll down for full removal instructions
First, you may be shown a fake Adobe Flash updater pop-up ad, but when you click on it, you will indeed download a bundle of infections including this PUP. These fake updaters can be displayed by suspicious websites, such as pornographic, torrent, and shareware sites. But adware applications that reside on your system can also be responsible for such unreliable third-party ads. You should always update your drivers (Java and Flash) from official sources. Never believe such pop-up ads that claim that you must refresh your software or drivers right now.
Another illegitimate way for this annoying program to appear on your computer is of course through freeware bundles, which you can similarly download from shady file-sharing websites. These sites promote a lot of unreliable third-party content, advertising. These ads can disguise themselves in order to mislead you. If you click on any corrupt ad, you can easily download an infectious bundle. If you are not attentive enough during installation, i.e., you do not opt out of the installation of unwanted components, you may let a whole bunch of infections on board. In this case, it will not be enough for you to only remove Buzzing Dhol from your PC; you will have to perform a system malware scan to find all possible threat sources. If you do not erase all the infections, your computer will not be safe for you to use.
The Buzzing Dhol service and mobile applications come from an otherwise legitimate-looking company called VcareAll Solution Pvt. Ltd. (vcareall.com), who has developed a number of other mobile and PC products as well. It is possible that in this case the adaptation to PC did not go well and the application got a bit buggy. To be frank, our researchers could not use this PUP as it was intended, i.e., as a local event finder. It seems that the Facebook login is also one of the features that do not really work properly. If you launch this PUP, you can only close it is through the Task Manager, which is quite strange and pushy behavior. All in all, we have found that this application is totally unnecessary and useless if you want to figure out about local events. We suggest that you go on with your web search and find a reliable application, or simply use a website that delivers. As for this application, we recommend that you remove it from your system.
Even at the end we cannot provide you with good news. As a matter of fact, the uninstaller of this PUP is rather useless, too. We have noticed that it leaves just enough leftovers to keep this application running. Therefore, we recommend that after activating its uninstaller through Control Panel, you also go through the steps of the manual instructions we have included below this article. If this looks too complicated to you and you consider yourself an inexperienced computer user, we suggest that you use a reliable anti-malware application to take care of all the potential threats on your computer.
Buzzing Dhol Removal from Windows
Windows XP
Open the Start menu and go to Control Panel.
Select Add or Remove Programs.
Click on the application and press Remove.
Windows Vista/Windows 7
Press the Windows button on the Taskbar and pick Control Panel.
Access Uninstall a program.
Click on the application and press Uninstall.
Windows 8/Windows 8.1/Windows 10
Press Win+X and pick Programs and Features.
Click on the application and press Uninstall.
Manual Instructions
Tap Win+E to launch File Explorer.
Find the following folders and remove them:
%PROGRAMFILES%\Buzzing Dhol
%PROGRAMFILES(x86)%\Buzzing Dhol (64-bit!)
Empty the Recycle Bin.
Tap Win+R and enter regedit. Click OK.
Find these registry keys and delete them:
HKEY_CURRENT_USER\Software\Microsoft\Windows\CurrentVersion\Run\Buzzing Dhol
HKEY_LOCAL_MACHINE\SOFTWARE\Microsoft\Windows\CurrentVersion\Uninstall\Buzzing Dhol 9.1.1\
HKEY_LOCAL_MACHINE\SOFTWARE\Wow6432Node\Microsoft\Windows\CurrentVersion\Uninstall\Buzzing Dhol 9.1.1\ (64-bit!)
Close the editor.
Reboot your system.
In non-techie terms:
Buzzing Dhol is mainly a mobile phone service or app that has been adapted to PC; and this application seems to have certain issues that made our researchers categorize it as a potentially unwanted program. Apart from not functioning properly, it seems that it mostly spreads in malicious bundles that contain a bunch of malware installers. This can raise the vulnerability of your system security. Keeping this program on your PC may not be dangerous but it is still not advisable considering its uselessness and the suspicious way it spreads on the web. We suggest that you remove Buzzing Dhol and eliminate all other related threats as well because otherwise your PC will not be secure again. If you do not want to "get your hands dirty," we recommend that you acquire a trustworthy malware removal program that will give your virtual world proper protection from all known malware infections.