Do you know what Business New Tab by inMind is?
Business New Tab by inMind offers you access to all the latest business information. It says that you will be able to reach your favorite business sites in one click. At the moment, the tab is compatible only with the Google Chrome browser. But this does not mean that users of other browsers should switch to Chrome in order to use this tab. In fact, they have one less problem, as this application is closely associated with an unreliable search provider. Besides, many users did not even notice how Business New Tab by inMind managed to slither onto their systems. No matter whether you are one of them, or if you have installed this tab willingly, it is better to remove the potentially unwanted application.
If you install Business New Tab by inMind on your computer, the program will display links to business news. However, this is the only useful feature of this application. Probably you will even miss those links as your attention will be turned somewhere else. The first thing you will notice is that your default homepage and search engine are changed to Ask.com. We would rather you do not use this search engine. It provides you with unreliable links to your search queries, so you can easily find yourself on a corrupted website in case you trust this engine.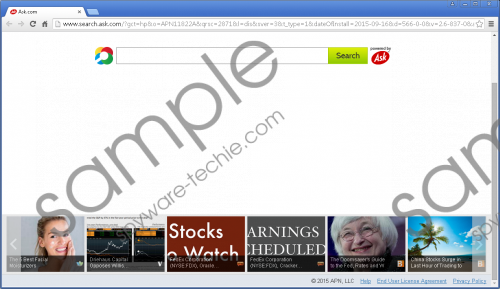 Business New Tab by inMind screenshot
Scroll down for full removal instructions
We decided to test Business New Tab by inMind in our laboratory. We have revealed the striking similarity between this program and the toolbars coming from the infamous Mindspark family. InMind, Inc., is the distributor of the tab, and this company has strong ties with Mindspark. Almost all InMind products, including WorldNews New Tab, and Gaming New Tab, are created to promote the Ask.com search engine. Almost all of them also come in software bundles. People like to get things for free, but they should know that there is no such thing as a free lunch. Software bundles include other additional programs, and some of them can be of an infectious and malicious character. You should pay the utmost attention to the installation wizard each time you download free programs from the Web. Only in this way will you be able to prevent hazardous threats that the software bundle may contain.
Now is the right time to remove the suspicious tab from your system. It is sufficient to eliminate the unwanted extension from your Google Chrome browser, and the intrusive search engine will be gone as well. This will also restore your default homepage. The elimination process will require only a couple of clicks from you if you follow our step-by-step guide. After you are done with Business New Tab by inMind, we recommend that you acquire a trustworthy antimalware scanner. The latter will check whether there are any other unreliable applications on your device. You can be sure that SpyHunter finds and removes all the malicious infections from your PC in case any of them are still present. Of course, you can use any other trustworthy security program.
How to remove Business New Tab by inMind from Google Chrome
Open your browser and tap Alt + F.
Go to More tools and then to Extensions.
Click the recycle bin near the unwanted extension.
In non-techie terms:
Business New Tab by inMind is just another suspicious tab coming from the unreliable distributor of potentially unwanted applications. Its functionality is rather limited as it only provides you with redirect links to various business websites. However, this tab changes your default homepage and search engine, setting them to Ask.com. The latter engine is unsafe to use, so prevent all the possible negative consequences by eliminating Business New Tab by inMind.