Do you know what Browseextended is?
It is possible that some users installed Browseextended unknowingly. If you are one of them you might be wondering how it happened and what kind of software it is. For starters, the application is considered to be adware, as you probably already noticed it displays lots of commercial advertisements while browsing. Although such content could be rather bothersome, you should know that it may be dangerous to your computer too. Moreover, our researchers tested it in our internal lab and found out that it might be spread with bundled installers. No doubt that the program is suspicious, and you should learn more about this adware before you delete it. This way you will learn how to protect your computer from similar software in the future. Also, we will explain how to erase the application with the provided removal instructions available below the article.
We always advise users to read any terms provided by the software very carefully as they could explain its working manner in greater detail. In this case, we have read the adware's End User License Agreement (EULA) and Privacy Policy documents, but we could not find any information about its publishers or anything that would describe the program better. As for the rest of the provided information, it was rather basic and inconclusive. However, the fact that some part of important data is missing tell us that this program is not worth your trust, because most of the legitimate software's creators provide detailed Privacy Policy and EULA documents, including the information about the developers.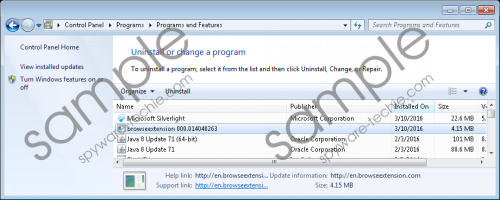 Browseextended screenshot
Scroll down for full removal instructions
As we mentioned above, the software could enter your system bundled with another program's installer. To be precise, it shows up on the setup wizard when you launch the installer. Often, these applications are only suggested, and you have every right to reject it, but not many users read the terms of the installation setup. Consequently, they agree to install much more programs without realizing it. If you do not want to repeat this scenario, you should read all the information and terms that are available in the setup wizard. No matter how much you trust the software or its developers, it is better to spend a few minutes and learn all the program's advantages or disadvantages.
Browseextended works on popular browsers, such as Internet Explorer, Google Chrome, and Mozilla Firefox, as it displays tons of pop-ups with commercial ads, sponsored links, and similar content on various websites that you visit. If you click on these pop-ups, you could be redirected to unfamiliar web pages that belong to a third party. Keep it in mind that third-party content cannot be trusted because it might come from anyone, so the website you land on might have malicious content too. Since the program does nothing else but display these suspicious ads, we would advise you to remove the application as soon as possible.
Browseextended is a useless adware, and if you did install it accidentally, there are no reason to keep it on your computer. As we said before, the manual removal instructions await you below the article. Although if it seems that this task is too difficult for you, there is another option you could choose. For instance, you could download a legitimate security tool and use its full system scanner to locate the adware and erase it automatically afterward. Also, the antimalware tool could help you secure your system and prevent other possible threats from entering it, just do not forget that such software must be updated from time to time for it to learn about the latest infections.
Remove Browseextended
Press Windows Key+R, type regedit and click OK.
Navigate to: HKEY_LOCAL_MACHINE\SOFTWARE\Wow6432Node
Find BROWSEEXTENSION key and right-click to delete it.
Go to: HKEY_LOCAL_MACHINE\SOFTWARE
Locate BROWSEEXTENSION key, right-click it and select delete.
Close the Registry and once more press Windows Key+R.
Copy and insert given locations separately: C:\Program Files; %Temp%, C:\Users\User\AppData\Local\Temp; C:\Users\user\AppData\Local
Locate browext1_en_014040262 folders in the locations above.
Right-click on browext1_en_014040262 folders separately and choose delete.
In non-techie terms:
The program is not considered a very dangerous threat, but you should not wait till something bad happens. As soon as you erase it you will have a better browsing experience too since you will be able to search the Internet without the irritating ads. There are two main options you can choose between to get rid of the application. The first one is a manual deletion that you should be able to do with the instructions provided a little above. The second option is automatic removal with a security tool of your choice.