Do you know what BringStar is?
BringStar is an adware application that is downloaded with freeware applications. It is responsible for displaying a lot of coupons and discount offers once you access popular online shopping websites. BringStar is not a dangerous computer infection, as most of the time users install the program themselves. Nevertheless, given the fact that BringStar may display potentially malicious third party content, you are strongly recommended to remove BringStar and anything related to the application from your computer ASAP.
For one, we definitely know what to expect from BringStar, because it is just another adware application in a long line of potentially unwanted programs, which includes such names as Adware.Spring Smart, SecretSauce of BrowseBit. All of these applications have one thing in common – they have official web pages, but the download link there is dead. The same can be applied to BringStar as well. You can access the home page at bringstar.net where you can read on about the application and how it can supposedly improve your overall web-browsing experience.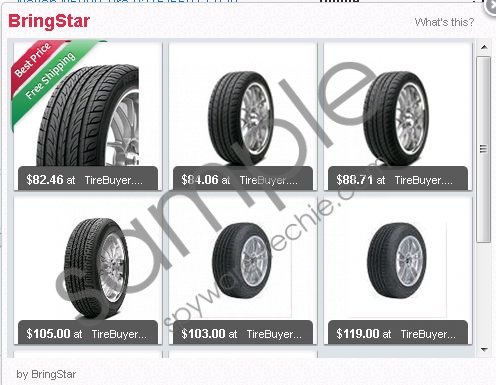 BringStar screenshot
Scroll down for full removal instructions
Nevertheless, if you click the Download button to download BringStar onto your PC, you will only be redirected to a blank page. Thus, it is obvious that BringStar usually arrives bundled with other freeware, downloaded from third party web hosting pages. It also means that you can choose whether you want this application installed on your computer or not, but the problem is that users often skip installation steps to install the application as fast as possible, without even giving a closer look to any additional functions or applications that might be installed along.
On the one hand, BringStar might indeed provide you with relevant coupons and other advertisements, eventually helping you save money on your purchases online. On the other hand, in order to generate the advertisements it has to do two risky things. One, BringStar needs to collect information on your web browsing history to personalize the advertisements. Two, it needs to make use of a third party advertising network for the advertisement content, and BringStar definitely cannot be held responsible for the security of a third party content.
Although malware infection is not a definite outcome of having BringStar on your computer, it is still a possibility; especially as such adware applications are often exploited by malicious third parties for malware distribution. Therefore, if you had no intention of installing BringStar onto your PC, remove the application right now, and then do not hesitate to scan the PC with a licensed antimalware tool in search for other potentially unwanted applications, because you are bound to have some.
How to uninstall BringStar
Windows 8
Slide mouse cursor across the desktop to the bottom right corner.
Click Settings on Charm bar and then go to Control Panel.
Open Uninstall a program and remove BringStar.
Windows Vista & Windows 7
Open Start menu and select Control Panel.
Click Uninstall a program and remove BringStar.
Windows XP
Open Start menu and click Control Panel.
Select Add or remove programs and uninstall BringStar.
In non-techie terms:
BringStar is a potentially unwanted program that may expose you to potential security threats. It displays various commercial pop-ups which may prove to be extremely annoying, so you should seriously consider removing BringStar from your PC right now.
Aliases: Bring Star.