Do you know what Box for You is?
At first, you might believe that Box for You is a legitimate browser extension that has the ability to showcase the most beneficial deals. However, sooner or later, you will realize that this program is completely useless. Unfortunately, some users realize this too late, after they get scammed. If you do not want to become a victim of malicious activity, we strongly recommend deleting Box for You. Of course, not all computer users will face the same risks, because the ads injected could change. Nonetheless, the risks are too high to ignore, which is why removing this adware is recommended by our research team. Continue reading to learn what we have found about this adware and its removal after analyzing it in our internal lab.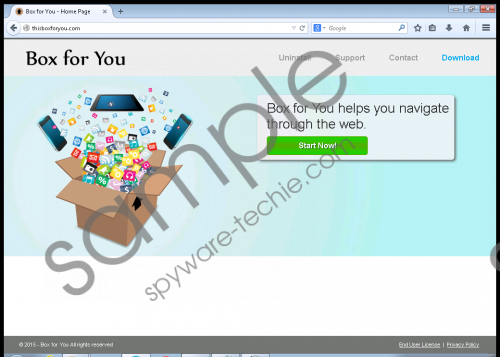 Box for You screenshot
Scroll down for full removal instructions
Box for You is distributed using third-party installers, and, if you do not encounter this advertisement-supported program, you could easily encounter SwizzleBiz, Bold Letters, RankRomp, and similar threats. These programs belong to SuperWeb LLC, and they are not the only ones in the family that require removal. Our research has revealed that this company is associated with hundreds of identically working ad-supported programs that must be deleted. All of these programs install tracking cookies to learn more about you and inject ads into the websites you visit. Some users think that they can trust the ads presented on reliable sites, but this is not the truth, as the program promoted at thisboxforyou.com can inject ads into any website. Even if you installed this adware by accident, you should realize that you need to remove Box for You as soon as you encounter advertisements (e.g., "Ads by Box for You") that clearly identify their owner.
There is not a single reason why you should not remove Box for You. Even though the offers presented by this adware might look genuine, it is possible that they will hide links to corrupted sites, which is the main reason you should delete Box for You. Luckily, the removal of this ad-supported program is pretty simple. All you need to do is access the Control Panel, open the right software removal utility, and uninstall Box for You. If you are completely new to this process, you will find the instructions below helpful. Afterward, it is necessary to install an automatic malware removal tool. Box for You can come bundled with malicious programs, and you cannot leave them out. If you do not delete all threats and reinforce the protection of your operating system, you will keep running into security problems.
Delete Box for You from Windows
Delete from Windows XP
Click Start on the Taskbar and open Control Panel.
Double-click Add or Remove Programs.
Remove the undesirable Box for You.
Delete from Windows 7 and Windows Vista
Click the Windows logo on the Taskbar.
Open Control Panel and click Uninstall a program.
Right-click the app you wish to remove and click Uninstall.
Delete from Windows 8.1 and Windows 8
Open the Charm bar in Metro UI and click Search.
Find Uninstall a program and find Box for You.
Right-click the app you wish to remove and click Uninstall.
In non-techie terms:
Box for You is an advertisement-supported program you ought to remove from your operating system. Our researchers have found that you can delete Box for You by uninstalling it. Of course, if other infections are active on your PC, there is no point in removing Box for You manually. Instead, install a legitimate security tool that will find and remove all computer threats automatically. Do you have questions regarding this ad-supported program? Do not hesitate to start a discussion in the comments section.