Do you know what Book Source is?
Book Source is regarded as a potentially unwanted program that you ought to remove because it is set to extort money from you. It features a fake Windows Activation window which requires you to call a particular phone number for technical support which might not come cheap. The people on the other end of the line might also trick you into purchasing overpriced software or something else along those lines. In short, this program is a tool used to extort money from gullible users, and if you have a genuine version of Windows, you should not get an error such as this. For more information, please continue reading.
Applications such as Book Source are rare, but our researchers say that it is somewhat similar to Quicky Translator and Free Youtube Downloader. However, this particular program seems to have been created by two people nicknamed Adithya and Amon, but we cannot be certain as some suggest that Adithya and Amon are the same person, and he uses several pseudonyms. In any case, our researchers have found that this application has a dedicated distribution website at Booksource.info, but it requires you to register to download it which means that you will have to provide your email address, and this is not good because you might start receiving email spam. As far as we know, the website is this program's only method of distribution.
Even though Book Source is not malicious and cannot cause damage to your computer, we still regard it as potentially unwanted because it is nothing short of a scam program set to extort money from you. As mentioned in the introduction, When you install this program it will immediately start rendering a convincing Windows Activation window which states that you only have one day to continue using all Windows features. Its "Activate Windows online now" button dos not work because it is not supposed to. The aim of this fake message is to trick you into calling a premium toll phone number 1-888-479-3649 or connect to Www.yeptalk.com/cs.html online chat. Microsoft does not use this chat system for customer support, so it is obviously fake. Nevertheless, you cannot connect to this chat because it is currently down.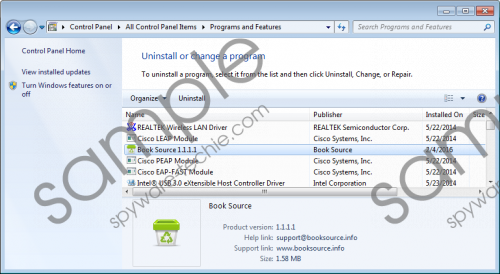 Book Source screenshot
Scroll down for full removal instructions
Still, we have received information that if you get in touch with the "technical support" people, then they might try to convince you to allow them to take control of your computer using Supportforme.com. Then, they might use scare tactics and claim that they have found critical errors and offer you to purchase overpriced useless software. So now that we have covered the true functionality and revealed this program's true purpose let us take a look at what it is supposed to do.
Allegedly, Book Source is a program dedicated to enabling you to get books from Google books (https://books.google.com.) Its Graphical User Interface (GUI) is a simple, bare-bones window which features the Google Book URL line and the Output Folder line. The way this thing ought to work is simple. You have to paste the link of a book you want to get in the Google Book URL line and click download, thus getting the book for free. However, when we tested this program, its GUI did not even initiate, so it is reasonable to think that this program is currently not active or outright broken. Whatever the case may by, we are pleased to see this program broken because otherwise its developers would continue scamming innocent PC users.
In conclusion, Book Source is a potentially unwanted program created with the intention to scam gullible users by claiming that their version of Windows in not genuine and offering technical support to resolve the issue. However, the technical support websites indicate that it is a scam since it uses third-party platforms to provide it. Furthermore, its Google book downloading function does not work, so there is no reason to keep it. Please follow our instructions on how to remove Book Source in its entirety because it leaves some leftovers that you have to delete manually.
How to uninstall this program using Control Panel
Windows 10
Type Control Panel in the search bar located on the Taskbar.
Go to Uninstall a program.
Locate the unwanted program and double-click on it.
Uninstall.
Windows 8 and 8.1
Open the Charm bar.
Click Settings and select Control Panel.
Open Uninstall a program.
Locate the undesirable app and click Uninstall.
Windows 7 and Vista
Click Start.
Select Control Panel.
Click Uninstall a program.
Locate the program and click Uninstall.
Windows XP
Open the Start menu.
Click Control Panel.
Select Add or Remove Programs.
Locate the unwanted software and click the Remove button.
Delete leftover files
Press Win+E keys.
Type %WINDIR% in the address box.
Locate the folder named Book Source.
Right-click on it and click Delete.
Empty the Recycle Bin.
In non-techie terms:
Book Source is a potentially unwanted program whose purpose is to make its developer or developers money. It does that by displaying a fake Windows Activation window claiming that you have one day left to pay. This program provides you with a phone number and a chat link that can get you in touch with fake technical support, and they might want to trick you into installing an unreliable program. All in all, this program is useless. Moreover, its Google book downloading function just does not work. So do yourself a favor and uninstall Book Source.