Do you know what Bonanza Deals is?
Bonanza Deals is a browser add-on that generates coupons related to the products you are searching for on the Internet. Different online shops will be provided so that you can compare the prices and choose best the best deal. The application is available at bonanzadeals.net and it may also be bundled with programs promoted on freeware websites. If you do not like the pop-up windows containing various offers and coupons, remove Bonanza Deals from the computer without hesitation.
With Bonanza Deals on your PC, you will find offers and advertisements provided through third parties. The developers of the application disclaim responsibility for the validity of the offers and the lowest price. The interaction between you and a third-party website is your own business, which means that you should be extra cautious whenever you access a suspicious third-party websites. Do not make purchases without making sure that the seller is reliable because your careless shopping may have adverse results.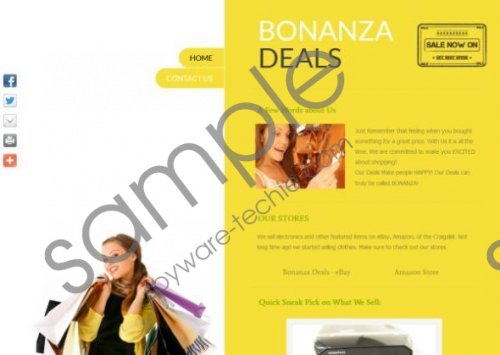 Bonanza Deals screenshot
Scroll down for full removal instructions
In order to provide you with matching offers and coupons, the application monitors your browsing behavior and collects non-personal information. Note that in addition to coupons, you may be provided with web-banners, promoting a product or service that has nothing to do with your search queries.
Bonanza Deals is a very similar to Diamondata Deals and LemurLeap, both of which are price comparison applications that display coupons and discounts in order to improve the user's shopping experience. Due to the fact that all these applications are capable of generating advertisements that may have no connection to the interest of the user, malware researchers categorize it as adware.
If you want to remove Bonanza Deals, you have two options. You can either try removing it manually or implement a powerful spyware removal tool to have it removed automatically. Below you will find our instructions on how to remove this application; however, if you decide to do so, note that the system should be scanned afterwards. To save your time, we recommend using SpyHunter because this software can do both remove Bonanza Deals and guard you from even more dangerous computer threats.
Manual Bonanza Deals Removal
Windows Vista and Windows 7
Open the Start menu.
Click Control Panel.
Select Uninstall a program.
Remove Bonanza Deals.
Windows 8
Press the Windows key and click OK.
Start typing control panel, and click the Control Panel icon when it appears.
Click Uninstall a program and remove the unwanted application.
Windows XP
Open the Start menu and click Control Panel.
Click Add or Remove Programs and remove Bonanza Deals.
In non-techie terms:
Bonanza Deals is a computer application which you should remove from the computer if you do not want to be disturbed by annoying pop-up coupons. Follow the instructions above or implement SpyHunter in order to eliminate the unwanted adware application.
Aliases: BonanzaDeals.