Do you know what Blockeru is?
Blockeru is a website blocker application to prevent kids to be exposed to adult content; however, our researchers have found that this is a simple advertising-supported program with no benefit for you at all. In fact, this adware is only beneficial for its creators who must be having a party right now on their yacht laughing hard how easy they make millions of dollars by not doing anything really. Would you like to support such schemers? All you need to do is click on the third-party ads Blockeru puts on your computer screen. But why would you support potential criminals and even risk being redirected to malicious websites? If you want to protect your computer from further infections and system security issues, we recommend that you delete Blockeru ASAP.
We do not think that too many people end up on the official-looking website of this adware, which you can find at blockeru.co. If you are searching for an adult content blocker there is no way you will find this website in the first few pages of the results. But try searching for Blockeru itself. That should be quite an eye-opener before you go hunting to download this suspicious program. The truth is that practically the whole first page of the search results will be full of articles about how and why to remove Blockeru. But even if you are a non-believer and want to see for yourself, you will be disappointed since you cannot download the app from its own website; the download button does not work. How about that?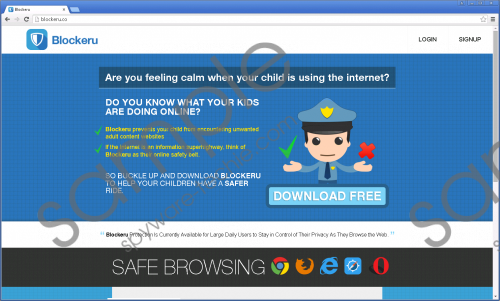 Blockeru screenshot
Scroll down for full removal instructions
Unfortunately, this adware is no different from any other and it uses free software bundles to be delivered. Can you imagine what may happen if this bundle is infected with a bunch of other malware applications and you let them loose on your computer? You could be introduced to unsafe web content every step you take on the virtual highway while surfing the net. If you do not want to be scammed or cause more security issues for your system, you had better remove Blockeru right now.
While Blockeru promises to block adult contents to protect your children, it actually might expose you and your operating system to dangerous third-party content by showing you potentially corrupted commercial advertisements. Since most of the third parties this adware affiliates with are not reviewed by the creators, it is possible that you can find cyber criminals among them. If they manage to fool you with their ads and get your attention, you might land on a compromised website by simply clicking on those ads. There are all kinds of ways how these criminals can get information out of you without your being suspicious at all. Giving up your banking details or other personally identifiable bits of information are among the worst things that can happen in such a case. Deleting Blockeru can help you prevent these things from entering your virtual reality.
It is time for us to blow away the dark clouds and let the sunshine in by telling you that you can easily get rid of Blockeru. Please follow our guide below and set your computer free in a minute. To be quite frank, it is possible that your PC will still not be totally free of infections though. That is why we suggest that you run a full system scan so that you can see the threat situation more clearly. Until you eliminate all the infections, your computer will not be safe to use.
Blockeru Removal from Windows
Windows 8/Windows 8.1/Windows 10
Tap Win+X and choose Programs and Features.
Select the program and press Uninstall.
Windows Vista/Windows 7
Access the Start menu and open Control Panel.
Select Uninstall a program.
Click on the program and press Uninstall.
Windows XP
Click the Start button and open Control Panel.
Select Add or Remove Programs.
Click on the program and press Remove.
In non-techie terms:
Blockeru is a worthless application that pretends to be useful by promoting itself as a helper of safe browsing for your children, but it is just another ad-supported program. The third-party advertisements displayed by this adware might be unreliable and link to unsafe websites, not to mention that this adware may also come on-board with other infections. There is no question that you should remove Blockeru right now along with every other malware threat. We suggest that you use an antimalware tool to do that for you.