Do you know what BlackHat Ransomware is?
BlackHat Ransomware is a malicious computer infection that has not reached its full potential yet. The program is still under development, so it does not perform everything a full-capable ransomware program would do. Nevertheless, if you happen to find the program's ransom note on your screen, you should not ignore it. You have to remove BlackHat Ransomware from your system and then look for ways to secure your system against similar intruders that might severely damage your data. For the manual removal instructions, please scroll down to the bottom of this description.
When we look at the program's design, we could think that it is yet another ransomware application that is based on the Hidden-Tear infection. In fact, our research team suggests that BlackHat Ransomware is practically identical to CryptoGod Ransomware and MoWare H.F.D Ransomware. However, looking closer at the program's code, we can see that it is NOT based on the Hidden-Tear ransomware. Not to mention that BlackHat Ransomware employs a different encryption algorithm. The most common encryption algorithms used by ransomware programs are the AES or RSA algorithms. Yet, this program makes use of the XOR algorithm. Of course, knowing the algorithm used does not really help you to decrypt the files easier, but it clearly shows that someone is trying to create a Frankenstein of a program, using features from different apps.
As mentioned, we are lucky that BlackHat Ransomware is still a work-in-progress application. It means that even if you do get infected with it, it will not encrypt your files (as of yet). It seems that it simply tests whether it can do anything, and it only encrypts the Test folder that it drops on your desktop. The folder, however, gets encrypted properly, and it gets an additional extension. The extension is ".H_F_D_locked," and this shows that the program clearly copies the MoWare H.F.D Ransomware infection to some level.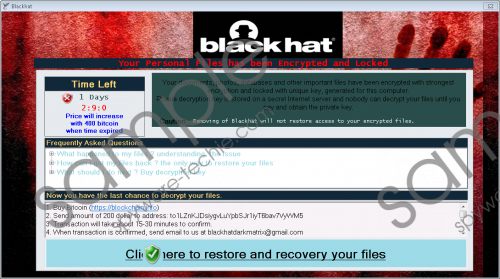 BlackHat Ransomware screenshot
Scroll down for full removal instructions
Even though the program cannot encrypt your files at the time of writing, there is always a chance that it will be developed further, and eventually, BlackHat Ransomware will be able to cripple target systems across the web. So it is clear why the ransom notification this program displays looks scary. It basically foreshadows what could happen if BlackHat Ransomware was the real deal:
Your Personal Files has been Encrypted and Locked

Your documents, photos, databases and other important files have been encrypted with strongest encryption and locked with unique key, generated for this computer.
Private decryption key is stored on a secret Internet server and nobody can decrypt your files until you pay and obtain the private key.
The infection says that you have one day to pay the ransom, and it requires that you paid $200USD in Bitcoins as soon as possible. If you fail to meet the deadline, the "price will increase with 400 bitcoin." Of course, there is no need to pay anything because your files were not affected by this infection. Instead, you should look for ways to remove BlackHat Ransomware for good.
We would also like to point out a few things about the way ransomware programs spread, so that you would be able to avoid similar threats in the future. For starters, you should ignore spam email point blank. Spam email attachments are the most common malware distribution vehicle. It means that they carry fake documents and other innocent-looking files that are actually there to install malware programs on your PC. BlackHat Ransomware probably does not get distributed like that because the program is still not fully developed. But it is important to keep that in mind because you can never know what potential threats might be right next to you.
If you think that manual removal might be too much of a task for you, you can always scan your PC with the SpyHunter free scanner. A full systems scan will detect all the malicious files that are present on your system. What's more, an automatic malware removal is actually the most efficient way to terminate any potential threat. Also, it should protect your computer from other threat that you may encounter in the future. Your system's security should be one of your top priorities, so do not hesitate to invest in it.
How to Remove BlackHat Ransomware
Click the X at the top right of the ransom note to close it.
Press Win+R and type regedit. Click OK.
Open HKEY_CURRENT_USER\Software\Microsoft\Windows\CurrentVersion\Run.
On the right side, right-click the Blackhat value.
Choose to delete it and close Registry Editor.
Press Win+R again and type %AppData%. Hit Enter.
Remove the MoWare_H folder.
In non-techie terms:
BlackHat Ransomware is a program that tests how well you are prepared to fight a ransomware infection. This application checks out potential victims. It does not encrypt target files yet, but if you were infected with BlackHat Ransomware, you might get infected with other dangerous programs, too. Remove this ransomware app from your system immediately and then look for ways to safeguard your computer against other potential threats.