Do you know what Birdfinds.com is?
When you launch your browser, what is the homepage site that you are greeted by? If it is Birdfinds.com, the chances are that your web browser was hijacked. Just like most hijackers, this one appears to affect Internet Explorer, Mozilla Firefox, and Google Chrome browsers because they are the most popular and widely used. If your browser was hijacked illegally – i.e. without your permission or notice – you need to delete it as soon as possible, and there is no point in thinking whether or not that is a good idea. Of course if you set this hijacker as your homepage yourself, you might have trouble understanding why this search tool might require elimination. If you have questions about that, you should continue reading this report. At the end, you will be able to decide if you want to remove Birdfinds.com.
First things first: How did Birdfinds.com take over your homepage? Whether or not it was done with your permission, the chances are that other unwanted pieces of software exist on your PC. The hijacker itself does not spread on its own, and an installer that would offer it alone does not exist. That means that it was offered to you along something else using a software bundle. Not all bundles are trustworthy. In fact, most of them are very unreliable because they are promoting malware. Legitimate and trustworthy programs always have official installers, and if they offer additional programs, they are usually complimentary and are created by the same company. Birdfinds.com, on the other hand, is most likely to be offered along with potentially unwanted programs, adware, and other pieces that generally require removal. If you have downloaded unfamiliar programs, make sure you install a legitimate malware scanner to check if you need to delete them. Of course, using this tool is crucial if the hijacker corrupted your browser illegally, and you do not know what is going on at all.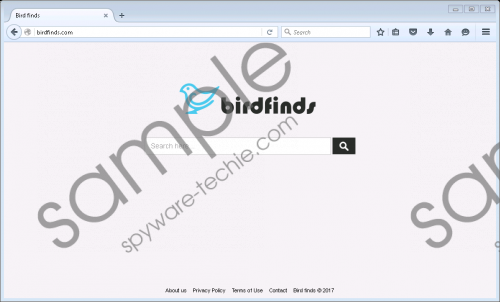 Birdfinds.com screenshot
Scroll down for full removal instructions
There are several reasons to delete Birdfinds.com once it slithers in. First of all, it does not work. It might be active at the time you are reading this, but our researchers found the hijacker to be incapable of finding search results. Also, it was suggested that if results were shown, they could show modified results to include unreliable or misleading links. Furthermore, the Privacy Policy at birdfinds.com/privacy suggests that cookies could record information about your activity, and since the company behind the hijacker does not reveal itself in a transparent manner, trusting it is a risky thing. Furthermore, the policy informs that third-parties showing their links via the search tool could use their own tracking cookies. While that is true for all search engines, you have to be particularly cautious about this hijacker.
If you want to delete Birdfinds.com, you need to check all installed browsers to see which ones it has corrupted. Most likely, you will find it on one. Next, you need to install a legitimate malware scanner to check if there are other threats that require removal. If they do, you have to figure out how to eliminate them as well. If they are more complicated than the hijacker, using an anti-malware tool might be the only option. If you are dealing only with the hijacker, you should be able to get rid of it using the guide below. If you still have questions regarding the elimination of Birdfinds.com, start a discussion in the comments section.
Remove Birdfinds.com
Internet Explorer
Simultaneously tap Win+R.
Enter regedit.exe into the RUN dialog box.
Go to HKCU\Software\Microsoft\Internet Explorer\Main in the Registry Editor.
Right-click and Delete the value named Start Page.
Mozilla Firefox
Simultaneously tap Win+E.
Enter %AppData%\Mozilla\Firefox\Profiles\ into the Explorer's bar at the top.
Open the folder that represents your Firefox profile and then open the file named prefs.js.
Find the URL of the hijacker, overwrite it with the desired startup URL, and then save the file.
Google Chrome
Simultaneously tap Win+E.
Enter %LocalAppData%\Google\Chrome\User Data\ into the Explorer's bar at the top.
Open the folder that represents your Chrome profile (or Default if profiles do not exist).
Delete or overwrite (open and change the hijacker's URL) the files named Preferences, Secure Preferences, and Web Data.
In non-techie terms:
If Birdfinds.com has corrupted your browser, you need to install a legitimate malware scanner to check for other threats. They are likely to exist, and removing them might be more complicated than removing the hijacker itself. The guide below shows how to eliminate it from the browser it has affected, and it is very easy-to-follow. When it comes to other active infections, we really cannot say how difficult or easy it will be for you to erase them. Hopefully, you can find guides on Spyware-Techie.com, but if you cannot, you should install anti-malware software to clean your PC. It will automatically delete Birdfinds.com and any other infections that are running on your operating system.