Do you know what Bettersearch.co is?
Bettersearch.co is a "mysterious" search engine that appeared recently on the web and probably in your browsers as well if you are reading this article. It is "mysterious" because you cannot find any legal documents on its page or any official website that would promote it as a browser extension, for example. These facts raise obvious questions about its reliability and intentions. Right now it seems that this search engine is hardly ever used because it has not spread widely yet. This could also be the reason for why it may still show legitimate Google search results, which can easily change in the future. Since this search engine may indicate that your computer has been infected with malware or potentially unwanted applications, we suggest that you remove Bettersearch.co as soon as you can. Please read on to learn how this search engine may have emerged on your system and how you can avoid similar threats in the future.
It is possible that you are visiting a suspicious website like an online gaming, gambling, dating, or file-sharing page, and you click on an unreliable third-party advertisement, link, a fake button, or a fake notification. This may directly install this search engine in your browsers but it is also possible that you are forwarded to a fake webpage that promotes this search engine and requires you to click Install if you want to move on from this page. Of course, you can also choose to close this tab or the whole browser window to get rid of such aggressive promotions. Still, there are unsuspecting users who would not see this as a system security threat and they might actually install such a tool. In this case, it may be enough for you to reset your browsers to delete Bettersearch.co.
The more problematic distribution method is called software bundling. It is quite likely that you install this search engine when installing a malicious bundle. This bundle could be packed with all kinds of malware infections, such as browser hijackers, fake alerts, adware apps, keyloggers, and potentially unwanted programs as well. This could seriously increase the vulnerability of your system. This is why you should avoid shady torrent and freeware sites, gaming, gambling, and porn-related pages. These are the most usual sites that can expose you to dangerous third-party content. One click on the wrong content can result in such a bundle on your system. Therefore, we advise you to delete Bettersearch.co and then, use a reliable online malware scanner to identify the rest of the threats.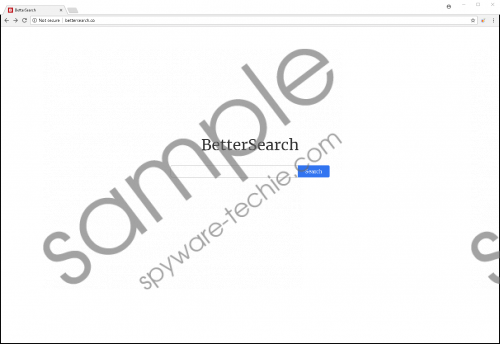 Bettersearch.co screenshot
Scroll down for full removal instructions
This search engine looks all innocent with its very simple page that practically only contains a logo and a search box. In fact, it is too simple since the authors forgot about the legal documents, such as the Terms and Conditions and the Privacy Policy. Maybe they did not even forget about these vital documents but simply did not want to share them with the users. This is a rather suspicious practice and should be enough for you never to use this search page or remove Bettersearch.co right away. The truth is that at the moment this search engine forwards your searches to Google and this is how it displays your search results. We have not noticed that these results are altered and have not found unreliable third-party ads appearing. Yet, it is quite possible that this search engine will be used to promote third parties as most of the other ones do. Therefore, we suggest that you remove Bettersearch.co as soon as you can.
We have included an easy-to-follow guide below this report so that you can eliminate this search engine from your browsers easily. Follow these steps and you should be free from it in a few minutes. Still, you should not forget about the other potential threats on board. For best efficiency, we recommend that you employ a reliable malware removal program like SpyHunter that can automatically eliminate all known threats from your computer.
Remove Bettersearch.co from your browsers
Internet Explorer
Press Alt+T and choose Internet Options.
Select the Advanced tab and click Reset.
Select the Delete personal settings checkbox and press Reset.
Press Close.
Google Chrome
Press Alt+F and navigate to Settings.
Click Advanced at the bottom.
Click Reset at the bottom.
Press Reset.
Mozilla Firefox
Press Alt+H and open Troubleshooting Information.
Press Refresh Firefox and press Refresh Firefox again in the confirmation window.
In non-techie terms:
Bettersearch.co is a new search engine that has not convinced our researchers as a reliable one. There are some question marks hovering around this search engine that make it undesirable on your system. This search engine may show up in your browsers in questionable ways. You may install it when installing a freeware bundle that may contain a browser hijacker, a potentially unwanted program, and other threats as well. But it is also possible that you let it on board by simply clicking on the wrong content while visiting suspicious websites. We cannot say that this search engine shows you manipulated search results swarming with unreliable third-party ads right now but it could be used for promoting affiliates in the future once it becomes more popular and widely spread. All in all, we recommend that you remove Bettersearch.co from your computer as soon as possible. Protecting your virtual world should be your priority if you want to feel safe while using your PC. Thus, you may want to install a trustworthy anti-malware program to defend your computer against all possible threats.