Do you know what Beta Rez is?
Beta Rez is an adware application, developed by Super Web, LLC. Usually, it's installed on your computer in a bundle of free programs and sets itself up as a browser extension. This adware provides no tangible benefits, while collecting browsing data and annoying its users with browser pop-ups. If you find ads as annoying as we do, our recommendation is immediate Beta Rez removal.
Like all adware made by Super Web, Beta Rez is distributed mainly through freeware bundling. It works by finding a useful program and adding the option to install several additional applications to the setup process. Often, with every new step in the installation, you are being offered to install one more program. Rushing through the process gives nominal agreement to install all of them. If you tend to get a lot of freeware and aren't careful, you will have a plethora of different and hardly useful, if not annoying, software on your computer before long. It has to be noted that sometimes, these bundles contain programs that could present actual danger to your computer.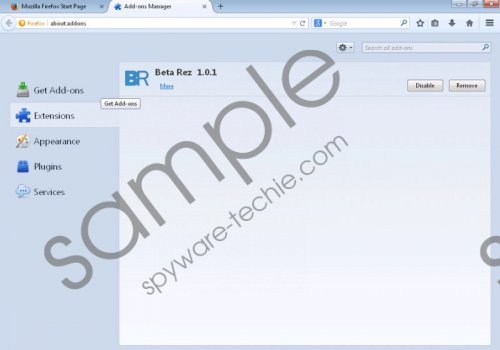 Beta Rez screenshot
Scroll down for full removal instructions
Once it's installed, Beta Rez adds a Mozilla Firefox or Internet Explorer browser extension. It is capable of tracking your Internet activity, including the websites you visit, what kinds of things you search for, what products you look for on shopping websites, and more. Once it collects enough data, Beta Rez starts showing you commercial adverts, linking to third-party websites. It's possible that some of them present some danger to your computer. Your machine could be infected by malware.
Even if the links Beta Rez provides were only annoying, another thing would still bother us. Super Web gets paid every time you click an ad that is "Sponsored by Beta Rez" or "Provided by Beta Rez." Do you get anything in return? No, you do not. By clicking the adverts supplied by this application, you directly support its developers, and the only thing you get for your trouble is a constant threat of malware injection.
If you don't like playing with fire, we recommend removing Beta Rez immediately. The safest option is to download a professional antispyware tool. It will scan your system, find any threats, and eliminate them. You could also delete Beta Rez yourself. We recommend against it because you can never know if your computer is infected by any other undesirable programs. Removing one of them, but possibly leaving ten more won't fix your security vulnerability. Nevertheless, instructions for manual Beta Rez removal are included below.
Manual Beta Rez Removal
Windows XP
Click Start, go to Control Panel.
Click Add or Remove Programs, find Beta Rez, and select it.
Click Remove.
Windows 7 and Windows Vista
Click the Windows button, go to Control Panel.
Click Uninstall a program, find Beta Rez, and select it.
Click Uninstall.
Windows 8
Right-click the bottom-left corner of your screen, go to Control Panel.
Click Uninstall a program, find Beta Rez, and select it.
Click Uninstall.
Beta Rez removal from Mozilla Firefox
Press Ctrl+Shift+A, go to Extensions.
Select Beta Rez, click Remove.
In non-techie terms:
Beta Rez is an adware application that collects you personal browsing data to show you targeted commercial adverts. Some of them could link to dangerous websites. Its developers earn money without giving you anything except for security risks in return. You should remove Beta Rez.