Do you know what BestVideoConverter is?
At first glance BestVideoConverter looks like a legitimate program that could greatly benefit everyone who has it. However, the application is much more that it claims, and not in a good way. It has been classified as an adware-type program that can compromise your computer's security via third-party ads. Therefore, it is recommended to remove it as soon as possible. It must be noted that this article will not tackle the functionality of the converter, because whether it works or not is irrelevant in this case.
The developers at Fantastic Tech were honest enough to inform users that the application is ad-supported. It is said that advertisements are needed to keep the converter free. We have heard this all before, and, regardless of the justification for showing the advertisements, the potential threat is still there. It is just the nature of online advertising. Dishonest entities may use a seemingly legitimate application, such as BestVideoConverter, to promote various products. Those products could be anything. In particular, users should be wary of ads that offer to download various system utilities, system optimization tools, registry cleaners, and so on. They might turn out to be rogue applications that will try to extort money from the user using various means of deception.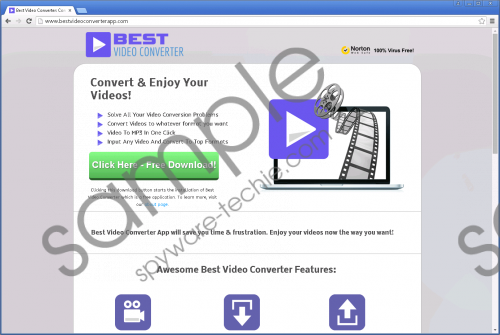 BestVideoConverter screenshot
Scroll down for full removal instructions
However, this is not the only malicious trait featured in this application. Data collecting is another thing BestVideoConverter excels at. The application is able to constantly monitor the user's browsing activities in order to collect information, such as browsing history, search history, browser settings, and geographical location, among other things. The gathered information is likely to be sent to third-parties who may use it for marketing purposes and to make the ads more appealing.
As has been mentioned earlier, BestVideoConverter has been developed by Fantastic Tech. Nothing is known about this developer, so that is the only information available at this time. To our knowledge, the converter is likely to be distributed using freeware bundles. Even though we have not found any cases of this, we advise users that BestVideoConverter can be bundled with programs found on websites, such as Cnet.com, Soft32.com, and other such websites. Another way this app can infect your computer is if you download it directly from the main website at Bestvideoconverterapp.com. The website does not appear out of the ordinary. As far as the average user is concerned, this is just another website that offers a free program. But the lack of information regarding the developer as well as the program itself indicates that there is something wrong with it.
We recommend that users remove BestVideoConverter, because it is simply not worth compromising your computer with malicious applications in return for a low-grade video converter. There are plenty of free converters out there that have been developed by legitimate companies. So do not hesitate and take action. Delete BestVideoConverter using our manual removal guide, and then get an antimalware scanner that will protect your computer from such infections in the future.
How to remove BestVideoConverter from Windows
Windows 8 and 8.1
Navigate the mouse to the bottom right corner of the screen.
Once the Charm bar appears, click Settings and go to Control Panel.
Click Uninstall a program and locate BestVideoConverter.
Right-click on the program and click Uninstall.
Windows 7 and Vista
Navigate the mouse to the bottom left corner of the screen and open the Start menu.
Open the Control Panel and select Uninstall a program.
Locate BestVideoConverter, right-click on it, and click Uninstall.
Windows XP
Navigate the mouse to the bottom left corner of the screen and open the Start menu.
Open the Control Panel and select Add or Remove Programs.
Locate BestVideoConverter and click Uninstall.
In non-techie terms:
BestVideoConverter is an adware application that masquerades as a video converter. The application shows third-party advertisements that might promote various malicious downloads that will compromise your computer's security. So, we encourage users to remove BestVideoConverter manually or by using an anti-malware scanner, such as SpyHunter.