Do you know what BeagleBrowser is?
BeagleBrowser claims to be "an easy-to-use web browser" which can block ads and malware and not allow other programs to track you. This software works on Windows, MacOS, and even Android, which suggests that the program is aimed at a huge number of computer users. BeagleBrowser seems to be a decent program, but it is definitely not perfect, so you should consider carefully if you want to use it on a daily basis instead of Internet Explorer, Google Chrome, or Mozilla Firefox. In case you have detected this program on your computer but cannot remember downloading it, you have to delete it as soon as possible because it seems that it has entered your system without your permission. You will definitely know how to remove this program after reading the article.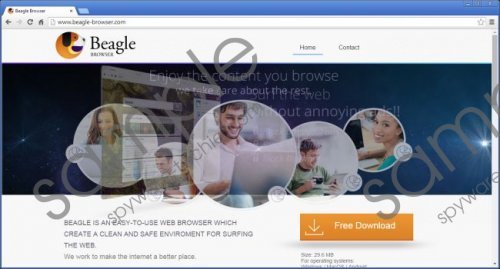 BeagleBrowser screenshot
Scroll down for full removal instructions
Many specialists classify this program as a potentially unwanted program (PUP) because it shows commercial advertisements. According to our specialists, it shows them only inside itself. In other words, you will see ads on the websites opened by BeagleBrowser only. Luckily, it will not affect other browsers; however, you will still see advertisements on your screen day after day. It is very easy to click on them accidentally and thus cause harm to your system. Ads might also ruin your browsing session. Our researchers believe that BeagleBrowser might record non-personally identifiable information, including search queries, the websites you visit, the content you access, and similar data in order to display ads. You can stop this if you remove BeagleBrowser from your system.
There are many other browsers that claim to be more useful than regular browsers (Internet Explorer, Mozilla Firefox, Google Chrome, Safari, and others). Unfortunately, the majority of them fall into the category of potentially unwanted programs. It is very difficult to say whether the program is trustworthy or not at first sight. Actually, this task might be even more difficult for less experienced users. Luckily, it is possible to prevent all kinds of infections from entering your system by installing an automatic malware remover on your system. Your system will be safe as long as you keep it installed.
If you are not going to use BeagleBrowser or you do not like how it works, you can remove it whenever you want to. In order to help you do that as quickly as possible, we have prepared the manual removal instructions for you, but if they do not help you to eliminate this program, you can simply download a free version of SpyHunter from this website, upgrade it, and perform a full system scan. Of course, we do not say that you cannot use another tool for this matter, but it has to be 100% trustworthy.
How to delete BeagleBrowser
Windows XP
Click the Start button.
Select Control Panel.
Click Add or Remove Programs.
Select the program and click Remove.
Windows 7 and Vista
Open the Start menu and click Control Panel.
Click Uninstall a program.
Select the application that you wish to remove.
Click Uninstall.
Windows 8
Tap the Windows key + R simultaneously.
When the box shows up, enter control panel and click OK.
Click Uninstall a program.
Select the unwanted program.
Click Uninstall.
In non-techie terms:
It would be wise for you to check your system's condition after the removal of BeagleBrowser. It is advisable to do that because this potentially unwanted program might have entered your system together with other unwanted programs. In case you find an unknown program installed, you should check it and delete it if it turns out that it is untrustworthy.