Do you know what the Bananacrypt ransomware is?
Ransomware infections differ in the way they are spread and in the level of their complexity. The Bananacrypt ransomware is a piece of malware that is created to encrypt files with different extensions so that those files are no longer used as usual. The threat would also append the extension .bananaCrypt to mark the affected files. All of this is done so that the user of the infected computer pays a ransom fee to have the encrypted files restored back to normal.
Obtaining money from inexperienced PC user is the primary goal of ransomware creators, who have already earned millions from helpless victims expecting to get their hands on their data again after making payments. The Bananacrypt ransomware is yet another attempt to victimize computer users who are not aware of to what extent the ransomware market has grown lately. It is, hence, crucial to remove the Bananacrypt ransomware instead of worrying whether it is worth spending the ransom demanded.
The Bananacrypt ransomware is spread with some flaws in its code; hence, the encryption process is not carried out successfully. This was observed when analysing the sample obtained by malware researchers. The version analyzed have not created any file containing a ransom note, but it has been revealed that the Bananacrypt ransomware should create a notepad file named "readme." The victim would be asked to purchase the attackers' decryption tool by submitting a sum of $300 in Bitcoin. The money is asked to be paid to the digital account asdffdsaasdf.
The release fee requested by any ransomware infection should not be paid, because that is not going to give the desired result to have the data restored. By paying the demand money, people embolden cyber criminals, and the threats released over the few past years has only proven that ransomware has significantly evolved, compared to the very first threats that were categorized as ransomware. This type of malware is considered the most profitable on the black market, and if individual users and companies alike do not take measure to prevent themselves from falling victim to ransomware, this type of hackers' business is likely to prevail.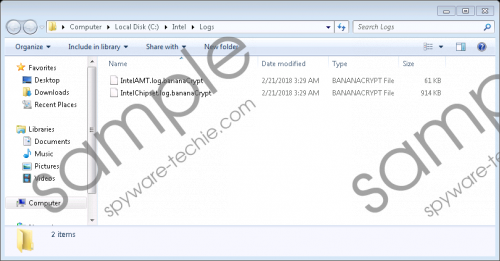 Bananacrypt Ransomware screenshot
Scroll down for full removal instructions
Instead of paying the demand ransom money, consider what Internet use-related habits should be changed. For example, ransomware is very often spread via email. More specifically, it is spear phishing emails that are design to look like emails sent by famous companies. The nefarious email may instruct you to downloaded the email attachment or click on a link within the text. This manipulative technique works if the victim is indeed the client of the supposed email sender. Hence, you should never trust emails offering content that you are sure you are not related to.
Avoiding websites offering freeware is also important, because obscure websites may be powered to spread drive-by downloads, which are downloads initiated without the user's consent and knowledge. It is also important to bypass websites populated by web banners and pop-up advertisements, some of which may be employed to drive you to infectious websites. The RDP service has also become a means of spreading malware, so, if you do not want to risk losing control over your device, you should make sure that your RDP login details are complex enough not to broken by brute-force RDP attacks.
A lot of computer users and business fall victim to ransomware because adequate protection is not considered a top priority. Having a powerful security program installed on the system is crucial, because new threats are released every day in large numbers, and you cannot know when you might be victimized by a gang of cyber crooks. Hence, if you have never used a professional security tool, we encourage you to implement one as soon as you can.
How to remove the Bananacrypt ransomware
Delete questionable recently downloaded files. To do so, check the desktop, the Downloads and Temp folder.
If there are ransom note files on the desktop or in other directories, delete those files.
Empty the Recycle bin.
In non-techie terms:
The Bananacrypt ransomware is a computer infection the goal of which is to compromise files and swindle a high sum of money out of the victim. The ransomware infection should be removed once noticed, and the necessary preventative measures should be taken to prevent unsolicited cyber attacks.