Do you know what Banana Phone is?
Banana Phone is another SuperWeb application that we recommend that you remove from your system as soon as you notice pop-ups, banners, in-text ads, and other forms of online advertising appearing on your web browser. This adware application clutters your screen with these commercial advertisements in order to promote third-party content. Even if you choose to accept these ads on your browser, bear in mind that clicking on them might result in your being transferred to unsafe sites that distribute malware. So, if you do not want any unfortunate accidents when you accidentally infect your computer with dangerous malware, delete Banana Phone before it is too late.
Banana Phone is designed to help third-parties to generate profit on the basis of pay-per-click method by redirecting users to affiliated sites, and thus increasing their web traffic as a result. Therefore, this adware application will not surprise you with any features that could facilitate your everyday computer activities. As Banana Phone is designed solely to satisfy the needs of developers and third-party advertisers, remove this program to free up space for more relevant software.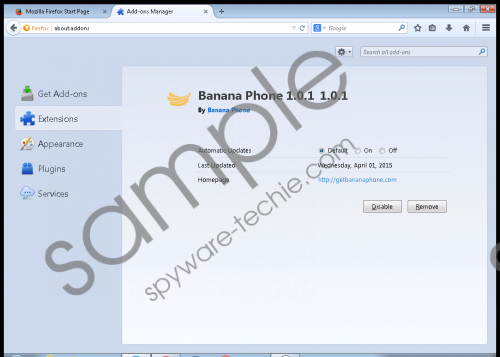 Banana Phone screenshot
Scroll down for full removal instructions
The thing that Banana Phone and Sad Cloud, Blue Bulletin, Shop Easy, and other SuperWeb applications, have in common is that they all susceptible to exploitation by cybercriminals. All these apps, and adware in general, might be taken advantage of to promote malicious content, thereby infecting target systems with dangerous threats. Some computer users hesitate to remove adware from their machines, without realizing how dangerous it might become. Do not make this mistake.
As the official site getbananaphone.com is not used to distribute Banana Phone directly, this app likely to get dropped into target computers by third-party installers. Be extremely cautious when installing software bundles as you might inadvertently install Banana Phone alongside questionable applications. If you fail to follow the information that is provided on the installation wizard of freeware programs you find on suspicious file distribution sites, you will need to delete not only Banana Phone, but also other dangerous applications.
Compatible with Mozilla Firefox and Internet Explorer, Banana Phone is also known to track your Internet browsing preferences for advertising-related purposes; hence, if you want to stop this app from monitoring you, you will need to remove it. You can eliminate Banana Phone from your machine by deleting it from Control Panel like any other program on your computer. When you get rid of this app, do not forget to run a full system scan with a legitimate antimalware program. This tool will identify and terminate all the malicious content that is still active on your PC.
Remove Banana Phone
Windows XP
Click the Start button and select Control Panel.
Click Add or Remove Programs.
Select the unwanted application.
Click the Remove button.
Windows 7 and Vista
Open the Start menu and select Control Panel.
Click Uninstall a program.
Right-click on Banana Phone in the list.
Click the Uninstall button.
Windows 8
Press the Windows key + R.
Type in "control panel" and then click OK.
Click Uninstall a program.
Choose the unwanted program.
Click Uninstall.
In non-techie terms:
Banana Phone is developed to promote commercial content, and thus redirect users to affiliated third-party sites. You should remove this application because it might be easily taken advantage of to infect target systems with malware. To make sure your computer always protected, install a reliable antimalware program.