Do you know what Bad Ads Blocker is?
Bad Ads Blocker is quite strange because instead of luring users with an ad-blocking service, it states that it can "make your web browser extremely fast." Unfortunately, the official website, advantagz.com, does not work at the moment, and it is unclear how exactly this kind of service is meant to work. What we know is that this program is undeserving of your trust, and it is wise to delete Bad Ads Blocker from your Firefox browser as soon as possible. If you ignore this advice, you will be flooded with ads, and it is difficult to predict what you could be exposed to via them. If you do not understand the importance of removal, please read this report.
As we now know, Bad Ads Blocker is not introduced to users in an official manner. Instead, this program is likely to be introduced using third-party installers. If you use these installers, you run a risk of letting in malware. If malware is installed without your notice, you might be in serious trouble. Unfortunately, we cannot make any predictions because different installers could be used to spread Bad Ads Blocker. Some installers could introduce this adware with harmless programs, and others could use it as bait to slip in truly dangerous malware. Even if you do not think that you need to delete malware, we suggest employing a scanner to inspect your PC. We will discuss the removal of third-party malware further in this report.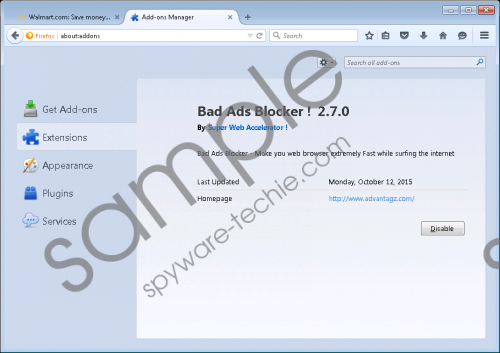 Bad Ads Blocker screenshot
Scroll down for full removal instructions
Although Bad Ads Blocker looks completely harmless, the ads it injects might be dangerous. The servers delivering these ads and the parties creating them are not transparent, and we fear that schemers could use this attractive-looking program for their own gain. If you decide to keep using Bad Ads Blocker – and we do not see a reason for this – you have to be careful about the ads you click on. If you are careless, you could be scammed before you know it, and you might even have to remove other unreliable programs. Luckily, the removal of Bad Ads Blocker is not something you will have to spend a lot of time on.
Once you delete Bad Ads Blocker from your Firefox browser (follow the guide below), you must figure out your next step, whether it is the removal of third-party infections, or the protection of your operating system. If you scan your PC and you know that you do not need to delete any other threats, go ahead and install a trusted security tool. If malware exists, remove it beforehand, or, better yet, use antimalware software to kill two birds with one stone: Delete malware and protect Windows.
Delete Bad Ads Blocker
Simultaneously tap Ctrl+Shift+A.
In the Add-ons Manager menu move to the Extensions list.
Remove/Disable the unwanted add-on.
In non-techie terms:
The seemingly helpful Bad Ads Blocker is an ad-supported program that has no potential of removing ads from the sites you land on. In fact this program was created to show ads, and because there is very little information about this program, we do not identify it as reliable. It is best to remove Bad Ads Blocker from your Firefox browser, and this process is quite simple. If other unreliable programs are active, we suggest deleting them with the assistance of an automated malware remover. If you cannot install it, check out the guide below; it might help you.