Do you know what AVC Plus is?
AVC Plus is another fake antispyware tool from the Braviax family of infections, which is infamous for producing fake antispyware applications such as Security Bytes 2015, Zorton Win XP Protection 2014, Sirius Win 8 Antispyware 2014, and quite a few others. Keep in mind that, just like all of its counterparts, AVC Plus should be removed as soon as it is discovered on your operating system. AVC Plus employs various scare tactics in order to fool unsuspecting users into purchasing a full version of an utterly worthless and extremely dangerous program. Do not hesitate and use the removal guide provided below to delete this rogue antispyware tool once and for all.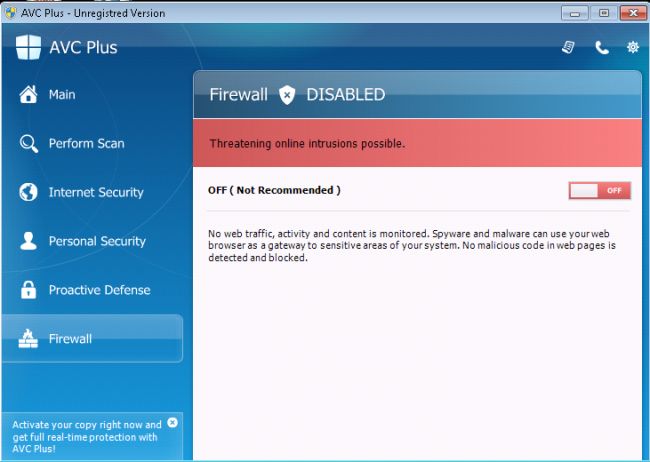 AVC Plus screenshot
Scroll down for full removal instructions
The research conducted at the internal lab of Spyware-Techie.com has revealed some alarming facts about AVC Plus. Once this rogue antispyware is up and running, your system will be scanned for virtual threats. In reality all the scan results provided by AVC Plus are fake and should not be taken seriously, as it is just a tactic to manipulate you into paying for a useless removal service that this malicious program provides. Do not pay for the fake removal under any circumstances as you will only lose money and might even provide your credit card data to cyber criminals.
AVC Plus will also block most of the .exe files on your operating system, so using web browsers, instant messaging programs, media player is out of the questions as long as this malware is running on your PC. This will make your PC virtually unusual, and to say the least, it will be frustrating and annoying. If you try launching any of the.exe files on your system, you will be presented with a message telling you that the files are infected with a Trojan or a computer worm. Do not get fooled by these messages, as all your files are actually safe to use. In reality, the only infection that needs to be removed is AVC Plus. Do not hesitate and do so ASAP.
Malware experts at Spyware-Techie.com have crafted a detailed removal guide that will help you delete AVC Plus entirely. Manual removal in most cases is too complicated as it involves complicated tasks as manual registry editing; only users with advanced computer knowledge should attempt this method of removal. Invest in a professional malware detection and removal tool in order to avoid infections such as AVC Plus in the future.
How to remove AVC Plus from your PC
Remove AVC Plus from Windows 8 and Windows 8.1

Tap the Windows key on the keyboard to access the Metro UI menu.
Open the Charm Bar and in the appeared menu click Settings.
Move to Change PC Settings, click General and go to Advanced Startup.
Click Restart Now, select Troubleshoot and move to Advanced Options.
Select Startup Settings, then click Restart and choose F5 to reboot the PC (wait for the PC to restart).
Go to www.spyware-techie.com/download-sph and download an automatic malware remover.
Install the application, run a system scan and remove the detected threats.
Remove AVC Plus from Windows XP
Reboot your PC and when BIOS screen loads tap F8 repeatedly.
Select Safe Mode with Networking using the arrow key and tap Enter.
Launch your browser and go to www.spyware-techie.com/download-sph.
Download and Install the antimalware tool.
Remove AVC Plus using this application
In non-techie terms:
AVC Plus is a hoax application, which must be removed in order to ensure the virtual security of your operating system. Do not hesitate to do so, as it is the only way to regain the normal functionality of your computer system. Follow the instructions below, and remove AVC Plus from Windows 7.