Do you know what Autismlocker Ransomware is?
Autismlocker Ransomware can slither onto your system and shock you with its screen lock. Not because it looks so scary, although the background image does have a certain weird feeling about it, but mostly because of the demands these attackers set in the ransom note. They do not seem to want your money; instead, they want some thing way worse, which makes us believe that this must be a joke, or else, we do not want to know. Our researchers say that this ransomware can encrypt your files, but it does not do so as yet. It is possible that a new version will hit the web soon, which will already do the encryption, too. This current version only locks your screen and tries to verbally threaten you to comply with the demands if you want to unlock your computer. Fortunately for you, we have the unlock code, so you can easily stop this insane malware infection. Once you manage to unlock your screen, you can relatively simply remove Autismlocker Ransomware from your computer with our help.
This ransomware is believed to be distributed mainly via spam mails. This spam contains an attachment, which is the malicious executable itself. Obviously, it is disguised as an image or document file so that victims would have no problem opening it. Of course, this whole spam is designed to deceive you. The sender may look totally legitimate and the subject rather important-looking. Such criminals usually use subject matters like unpaid invoice, undelivered FedEx parcel, problem with your credit card details, and so on. It is quite likely that most people would consider such a mail important or would be curious enough to open it. Please remember though that doing so could be very dangerous even if, in this case, you may not lose your files due to encryption. Nevertheless, it is important that you delete Autismlocker Ransomware the moment you find out that it locked your screen.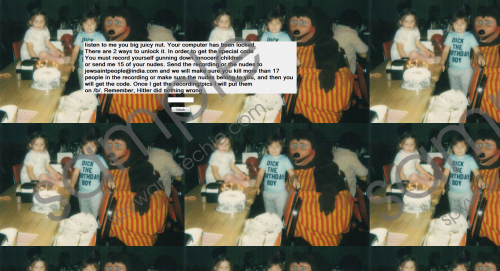 Autismlocker Ransomware screenshot
Scroll down for full removal instructions
If your browsers or drivers (Java and Flash) are not updated frequently, you may land on a malicious website created by cyber criminals. Such websites apply so-called Exploit Kits (e.g., RIG) to drop ransomware infections onto your system behind your back. You can be redirected to such a site by engaging with corrupt third-party content on suspicious websites, including file-sharing, online betting, gaming, dating, video streaming, and porn sites. One click and you could be sent to website running Exploit Kits in the background. This can only end badly for you. The only good thing is that this time you will not possibly lose your files after you remove Autismlocker Ransomware.
This is a typical screenlocker that does not yet encrypt your files even though it actually could do so. Another main difference from the usual ransomware infections is that these criminals do not ask for your money in exchange for unlocking your computer. You have to send either a video in which you are "gunning down innocent children" or "15 of your nudes." You may be shocked to read these two options, and believe us when we say that we were, too. It is quite possible that someone behind this threat believes that this is a good joke, but we certainly cannot disagree more. In any case, you have to send your video or the pictures to "jewsaintpeople@india.com," which again clearly shows that some hackers may be fooling around in a bad and disturbing way. But you are saved this time because we do have the unlock code and with our instructions below you can remove Autismlocker Ransomware from your PC immediately.
If you are ready to take down this idiotic ransomware, enter "12324354" in the field below the ransom note and press the Unlock button. Then, you can follow our instructions below this article to get rid of this ugly threat. Hopefully, you see now how easy it is to infect your computer with malware infections like this one. Next time you let something like this on board, you could actually lose all your important files to encryption. You may want to defend your PC against such threats in the future, so we advise you to install a reputable anti-malware program like SpyHunter as soon as possible. At the same time, it is also vital that you keep all your programs updated regularly to make sure that cyber criminals cannot hack into your system via outdated software vulnerabilities.
Remove Autismlocker Ransomware from Windows
Press Ctrl+Shift+Esc to launch your Task Manager.
Right-click on the malicious process.
Open Properties and make a note of the Location field, which reveals the path of the malicious .exe.
Press OK and press End task.
Close the Task Manager.
Press Win+E.
Delete the malicious .exe file (may be "Autismlocker.exe").
Delete all recently saved suspicious executable files (check your default download folders, too).
Empty your Recycle Bin and reboot your PC.
In non-techie terms:
Autismlocker Ransomware is a malware threat that emerged about 3 weeks ago. This ransomware is indeed a screenlocker with the ability to encrypt files; however, this current version does not seem to do that. It also does not ask for any money; instead, you are instructed to send a sick video of how you "gun down" innocent children or 15 nude pictures of yourself. This is either a sick joke of a malware or these attackers have some psychological issues, not to mention the legal consequences of such an attack. The good news is that you do not need to give in and comply with any of the two options. We have the unlock code for the screenlocker ("12324354"). After unlocking your screen, you can relatively easily remove Autismlocker Ransomware from your screen if you can identify the related files. This attack may be a warning for you to become a safer web surfer or to install a decent anti-malware application to defend your PC.